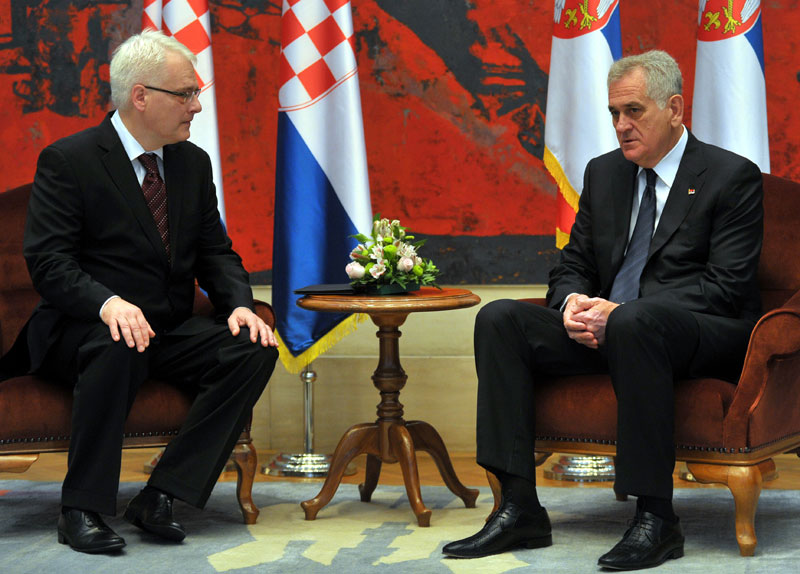 By Miloš Mitrović – Belgrade
Croatian government has not decided yet whether it would withdraw the genocide lawsuit against Serbia, Croatian President Ivo Josipović said on Wednesday. Serbian President Tomislav Nikolić stated at the mutual press conference with Josipović, that the withdrawal of the both genocide lawsuits – the Croatian one and the other arraigned by Serbia against the Croatia – would consolidate the peace between two countries. Later on Thursday Josipović would end his three-day visit to Serbia.
In 1999 Croatia filed the suit against the former Federal Republic of Yugoslavia (FRY) before the International Court of Justice (ICJ). The lawsuit covers the massacres that occurred during the war in Croatia 1991 – 1995. Serbia is legal successor of  FRY. Serbia filed the genocide lawsuit against the Croatia in 2010. The application covers World War II atrocities against Serbs committed by the Independent State of Croatia, puppet state of Nazi Germany, as well as the crimes committed against Serbs of Croatia during the war in 90s.
Josipović said that Croatia expects the resolution of the open questions between the two countries as the precondition for the lawsuit withdrawal. He admitted that the lawsuits represent the obstacle for improvement of the relations between Serbia and Croatia. However, Croatian head of state added that the two countries once had even greater bilateral problems.
The missing persons issue is among the open questions, Josipović specified. "Therefore we should give some time to our governments to reach the compromise in that regard", Josipović stressed.
During the 90`s Yugoslav wars families have reported the disappearance of over 34,770 persons to the International Committee of Red Cross. In 2010, 14,610 people remained missing. These include close to 2,400 who disappeared in Croatia.
Serbian President Nikolić emphasized that the mutual withdrawal of the lawsuits would be important "because Serbia and Croatia should establish eternal peace, if possible". He suggested that nobody would be satisfied with the ICJ ruling.
Nonetheless, both Josipović and Nikolić said that the Serbian-Croatian relations have been improved "through continuous dialogue and resolving the open questions". Wednesday meeting was the first of the two heads of state on bilateral level since Nikolić was elected for Serbian President in April 2012.
"Josipović told the Serbian parliament that for the sake of a better future, the two nations had to restore mutual trust, close the book on their conflict and show political will and clear the way for a true partnership", Tanjug news agency reported