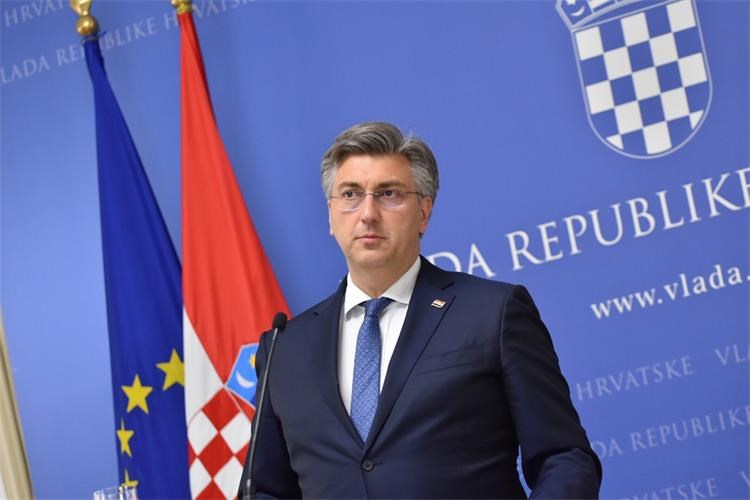 Croatia can be satisfied with the Recovery Plan drafted by the European Commission, said on Wednesday Prime Minister Andrej Plenković. He added that 10 billion euro have been allocated to Croatia, which should help the economic recovery following the crisis caused by the coronavirus pandemic.
At a press conference held today, Prime Minister Andrej Plenković commented on the Recovery Plan of the European Union, which was earlier during the day presented by the President of the European Commission Ursula von der Leyen, stressing that it is very important for all the Member States, especially for Croatia.
"The impact of this crisis is unprecedented and this demonstrates how important is European solidarity, unity, leadership, determination and support to Member States and all citizens of the European Union," stated Plenković adding that this is also a proof to all those who have doubts how good it is to be a member of the European Union in a situation like this one.
The European Commission presented its plan entitled "Next Generation EU" that plans 750 billion euro of support to the Member States. A new proposal for allocating 1,100 billion euros within the framework of the new Multiannual Financial Framework will be presented as well.
"Over 10 billion euro is envisaged for Croatia through the instrument Next Generation European Union, with 7.3 billion euros of grants and 2.65 billion of possible loans," reported Prime Minister Plenković, explaining that this is the money intended for the recovery of the Croatian economy during the next four years.
He announced that the Commission will propose a Multiannual Financial Framework providing for an allocation to Croatia that will be significantly better and higher than in the proposal that was on the table in February. He stated that this is the result of quality communication with the Commission, which resulted in a high amount of funds.
"I would like to send a message to the Croatian public that in these times of crisis we can see the significance of membership in the European Union and the importance of European funds that help us returning back to the path of economic growth," stated the Prime Minister and announced that in the following days the Government will provide detailed information on how much funds have been envisaged for different areas.
Responding to the question whether he believes that all Member States of the EU will agree with the proposals of the European Commission, Prime Minister Plenković responded affirmatively and added that this has already been "tested". As he explained, grants will be awarded using the usual method, while loans, depending on the needs, will be more favourable since they are approved at the level of the EU and not for each state individually./ibna