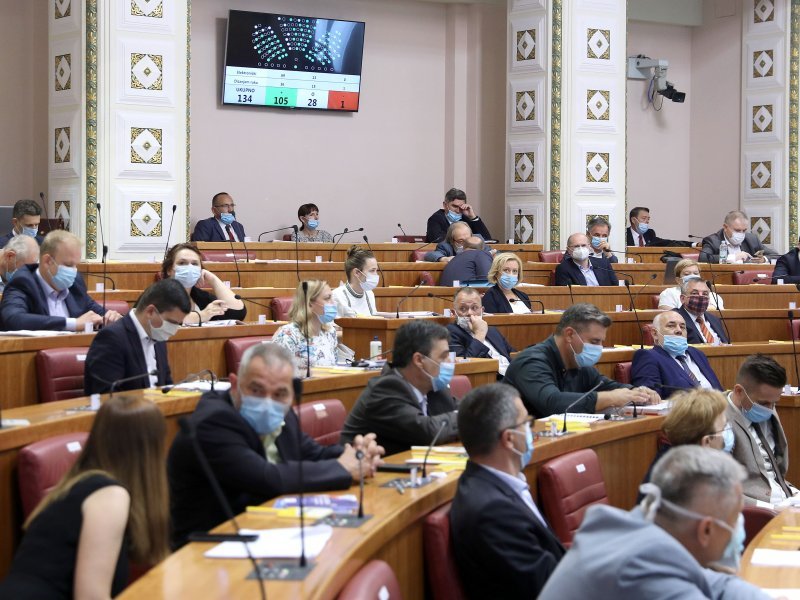 Deputy Speaker of the Croatian Parliament (so called "Sabor") Ante Sanader said on Thursday that the Parliament's decision 29 years ago to cut all state and legal ties with the then Socialist Federal Republic of Yugoslavia (SFRY), had once again proven that this institution was the true guardian of the Croatian people's sovereignty and legal order.
On the occasion of the Day of the Croatian Parliament on October 8, Sanader issued a congratulatory message to all MPs on behalf of Parliament Speaker Gordan Jandrokovic and on his own behalf.
Sanader recalled that many Croatian war veterans had sacrificed their lives defending modern Croatian statehood, freedom and democracy, adding that the Homeland War and its values constituted the foundation of the existence of today's Croatia.
"The Croatian parliament has played a key role in proceeding with important decisions for the construction and defence of an independent, sovereign and democratic Croatia", he said, stressing that today, "while we are faced with the challenge of a pandemic, the parliament continues its work and passes laws important for the well-being of its citizens and the functioning of the state",
"Although, due to the pandemic, we were unable to hold a formal commemoration to mark Croatian Parliament Day with full attendance by the MPs, we still convene sessions and make decisions, which remains our most important task", Sanader noted.
The Deputy Speaker recalled the historic significance of the decision made on October 8, 1991.
"Twenty-nine years ago, the parliament decided that the Republic of Croatia no longer considered legitimate any of the bodies of the former state, and that it no longer recognised as valid any legal act of any body acting on behalf of the former federation, which no longer existed as such", Sanader writes.
"This decision, along with the Constitutional Decision on the Sovereignty and Independence of the Republic of Croatia and the Declaration of Independence, confirmed the right of the Croatian people to a sovereign, autonomous and independent state", Sanader continued.
The parliament observed a minute of silence for all fallen war veterans, first Croatian President Franjo Tuđman, and recently deceased Žarko Domljan, who served as the first speaker of the Croatian parliament. /ibna