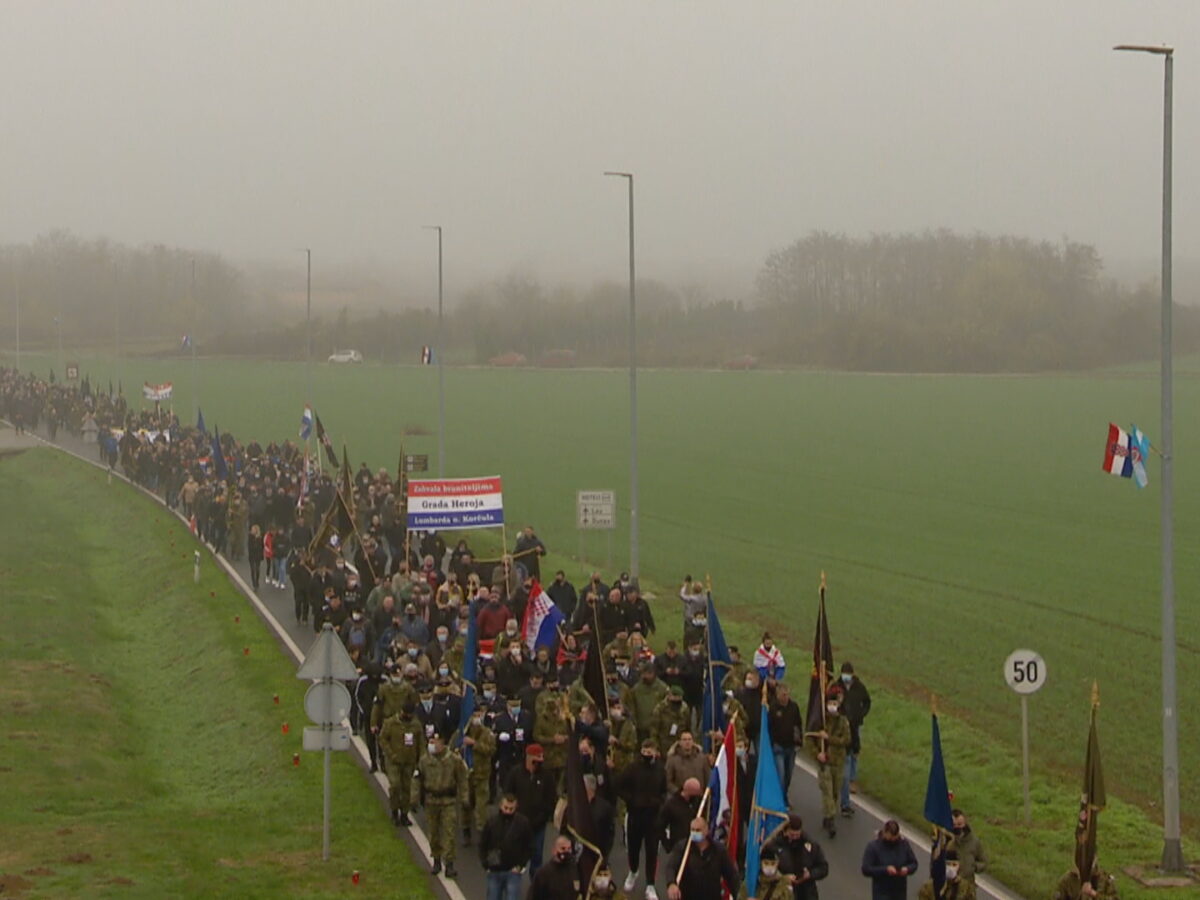 An estimated 10,000 participants attended the Vukovar Remembrance Procession on Wednesday morning, despite epidemiological recommendations that the number of participants should be capped at 500, due to the coronavirus epidemic, HINA Agency reported.
"Today, walking through the streets of Vukovar, we express our gratitude to the Croatian defenders and people who suffered during the Homeland War, and we pay our respects in the dignified manner they deserved", War Veterans' Minister Tomo Medved said during the commemorative events.
Many participants wrapped themselves in national flags or flags of wartime military units, or carried them during the procession. Many had protective masks, however, according to reports, many were maskless, with the so-called "anti-COVID restriction monitors" distributing protective masks and disinfectants to participants on their way from the start of the march to the memorial cemetery.
One of the participants, Hrvoje Marijanović from Varaždin, admitted that "it is difficult to keep control of such a big crowd. However, I simply had to come here. I am wearing a protective mask and I believe that everything will turn out just fine in the end".
Krunoslav Marinčić stated that he and his wife attended the commemorations in Vukovar on 18 November every year.
"We must honour the sacrifice of Vukovar… there would not have been us, here, if Vukovar had not made such sacrifice", he added.
Vukovar's Deputy Mayor Ivana Mujkić also marched in the procession on behalf of mayor Ivan Penava, who was diagnosed with coronavirus. She said it was difficult to estimate the exact number of participants, but at least 5,000 had arrived in Vukovar today.
At the beginning of the procession, participants were asked to adhere to the Covid-19 restrictions.
They were bracketed in several groups led by flag bearers.
In the past days, epidemiologists recommended that the number of participants in the procession in Vukovar be capped at 500 and anti-Covid measures, including the use of masks and physical distancing, be respected.
In Vukovar, Prime Minister Andrej Plenković, Parliament Speaker Gordan Jandroković, Deputy Prime Minister Boris Milosevic, alongside other officials were also present the procession. Furthermore, Veran Matić the envoy of the Serbian President Aleksandar Vučić, attended the commemorations as well.
President Zoran Milanović laid a wreath at the memorial site at Ovčara on Wednesday morning.
Škabrnja also commemorated today the 29th anniversary of its fall into the hands of the Yugoslav People's Army and the local Serb paramilitaries.
The commemorative events were attended by delegations of the Croatian president, the parliament and the government, however the crowd was significantly smaller compared to other years, when even 15,000 people would swarm the town in the Dalmatian hinterland to remember the victims and the defenders. /ibna