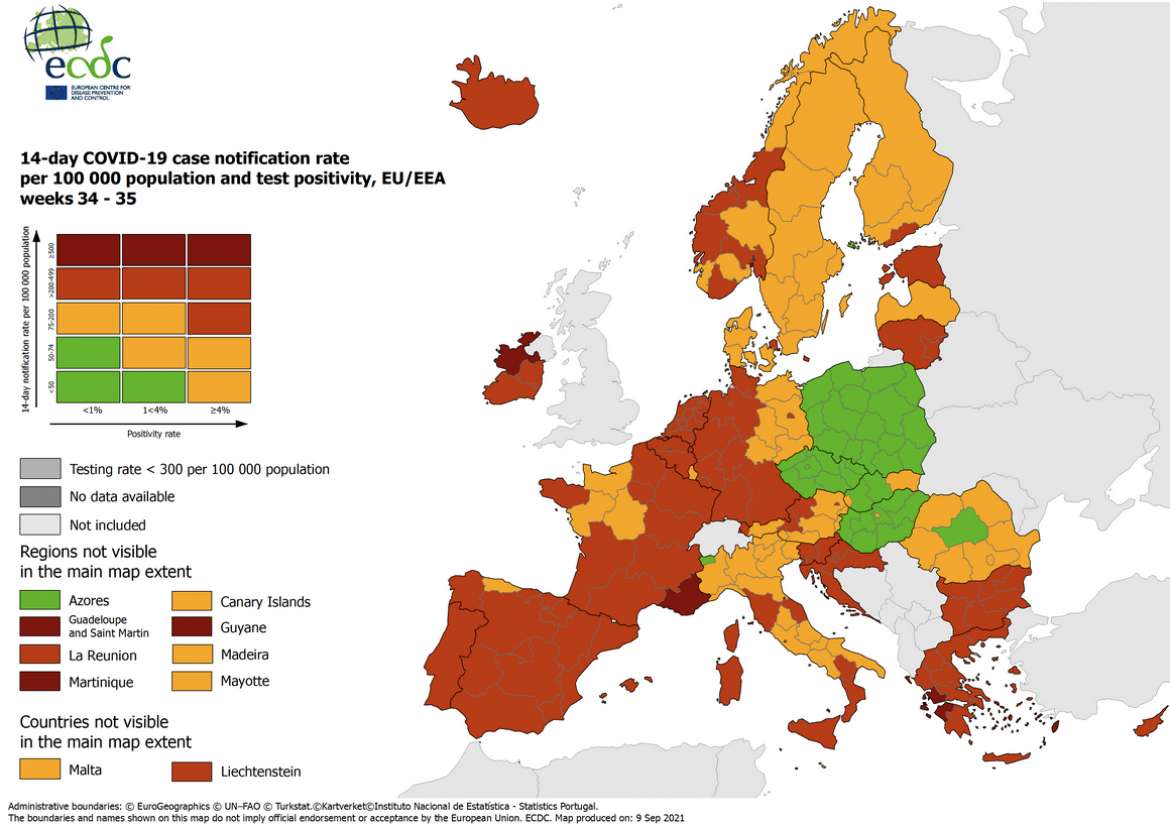 The latest ECDC Corona Map has been published on September 9, 2021, and the whole of Croatia has turned red.
Apart from Croatia, practically all of Western Europe is marked red, while most of Scandinavia has remained orange. Central Europe is mostly green on the new map, Croatian media report.
For several weeks in a row, the situation in Croatia has changed for the worse on the ECDC map. On last week's map, eastern and central Croatia were red, but Zagreb, coastal counties, and northern Croatia remained orange.
The transition of Croatia to red was expected as the number of infections increased by 50% in the last week. Yesterday, 1237 new infections were recorded, and last Wednesday, there were 805.
Red means a 14-day infection rate of 75 to 200, with a positive rate greater than 4%, and areas where the 14-day infection rate is 200 to 500. Dark red areas mean a 14-day rate greater than 500.
The ECDC Epidemiological Map for Europe is published weekly based on the 14-day incidence and the proportion of positive tests in the total number tested.
The Croatian Minister of Health, Vili Beroš announced on Twitter that Croatia had become a red zone. He says this is the result is thanks to the non-vaccinated population and non-compliance with measures.
"We are in the red. The result is partly non-vaccination and non-compliance with epidemiological measures. The way out is in as many vaccinated as possible, which raises the level of protection for all," he wrote.
Zvonimir Šostar, Andrija Štampar Teaching Institute for Public Health director, spoke to HTV's Dnevnik about the latest map.
"The whole of Croatia has a problem due to non-reporting contacts," he stressed and added that the Delta strain is much more contagious than previous strains, and it is important that all contacts are registered.
He pointed out a problem with vaccination and appealed to everyone not to go to large gatherings if necessary, and to respect the measures, especially when it comes to wearing a mask.
"There are no hotspots; there are familial, horizontal spreads. As a result, more and more young people are hospitalized, and care should be taken," he warned.