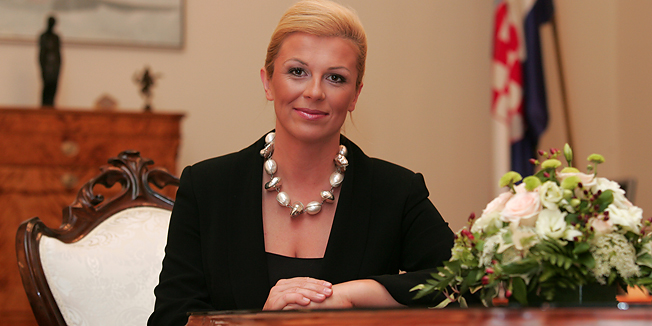 By Marija Avramovic – Zagreb
The first poll on voters opinion about NATO's Assistant Secretary General for Public Diplomacy Kolinda Grabar Kitarović, after she officially became the candidate of the Croatian Democratic Union (HDZ) for Croatian president, shows that current president Ivo Josipovic still enjoys the support of the majority of the voters, but also that this support is dwindling.
Nova television conducted the survey just two days after HDZ announced that Grabar Kitarovic is to be their presidential candidate on a sample of 687 people by telephone. Josipovic enjoys the support of 50.3% percent of the voters at this time. His opposing candidate Grabar Kitarovic can count on 37.3% of the voters. There is still a 12.4% pool of undecided voters, who when accounted for result in Josipovic enjoying the support of 57% of voters, and Grabar Kitarovic 43%.
According to the survey, participants assess her as a person who is decisive and who is not corrupted. They consider her as sincere and as a fighter against corruption, but most of all, a candidate who understands foreign politics and defense. Such high percentage of voter preference is of great significance given that it serves as a certain proof that Croatian voters are looking for a fresh start to the future rather than the past.
"I think it's very important that we have talks besides photography. I'm looking forward to the debates and I think it is very important for our citizens to see each for who he/she is, what they are and how they see Croatia," Josipovic said on his main opponent. For many, this statement is sexist, politically incorrect and depreciating.
"She has chosen an electoral strategy that is characterized by an avoidance to send a political message, since we do not know what she thinks about same-sex marriage, oil politics in Croatia, about human rights. There is no talk of these issues and she communicates with the public through photography", Josipovic later explained.
President of HDZ Tomislav Karamarko is convinced that Grabar Kitarovic will become the first women president of Croatia at the end of December, when the presidential elections are scheduled and announced her presidential campaign to begin in September, after the NATO summit. According to him, the campaign will not be luxurious, but realistic and affirmative.
Ambassador Grabar-Kitarović took up her position at NATO in July 2011. Having previously served as Croatia's Minister of Foreign Affairs and European Integration and, more recently, as Ambassador of Croatia to the United States (2008 – 2011), she is well-versed in Euro-Atlantic diplomacy and security issues.