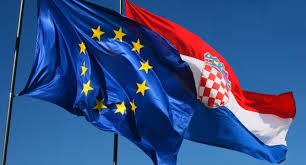 By Natasa Radic – Zagreb
All the tasks are completed and Croatia can join the EU on July 1st – stated a joint evaluation of European institutions and parliamentarians who have adopted on Thursday the final resolution before the Croatian membership.
The European Parliament in Strasbourg passed a resolution on Croatia – 529 deputies were in favor, 36 were against and 39 abstained. This now makes the road for the EU completly clear for Croatia and Zagreb can now start planning the celebrations for the accession day. Croatia will become 28th member of the EU and the second of the former Yugoslav republics as Slovenia joined in 2004. The last EU enlargmenet happened in 2007 when Romani and Bulgaria joined.
MEPs and Rapporterus on Croatia agreed that Croatia has met all of the tasks and is fully ready, and the monitoring is no longer needed. Still, it is important to continue with the reforms, with an emphasis on economic growth and recovery that will create jobs and stimulate employment. The further fight against corruption and processes against the perpetrators of war crimes are also expected from the newest EU member. Still, the majority of the parliamentarians who were participating in the devate praised the efforts of the institutions in Zagreb who have tried to fulfil all the criteria and satisfy Brussels requirements in different areas.
Parliament also called on the remaining two countries, Denmark and Germany, to ratify the Croatian accession treaty as soon as possible.
Croatia cannot join the EU until all the member states have ratified its accession treaty.
"Croatia's quest for EU membership – which entailed a thorough transformation of all corners of public policy – is almost over. Croatia's accession will make the EU stronger and more secure," said Libor Rouček, the EP rapporteur on Croatia. "Croatia's success also sends an encouraging signal to other candidate and aspirant states in the region."