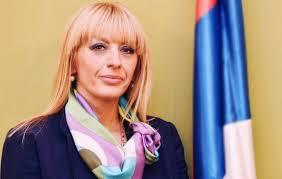 Belgrade, March 18, 2016/Independent Balkan News Agency
By Milos Mitrovic
Belgrade still waits for the approval of Croatia for opening of the Chapter 23 in its membership negotiations with the European Union, Serbian Minister for European integrations Jadranka Joksimovic (photo) said today. Amid fresh tensions between Serbia and Croatia over war crimes suspected Vojislav Seselj, Foreign Ministry in Zagreb replied by stressing, among other things, that Serbia has to cooperate with The Hague tribunal which is to issue the verdict in Seselj's case on March 31.
Earlier this week the International Criminal Tribunal for the former Yugoslavia (ICTY) decided that Seselj is not obliged to be present at the verdict proclamation. One of the judges claimed this was the result of Serbia's mockery of the ICTY. Croatian Deputy Prime Minister Bozo Petrov reacted by saying that Serbia treats Seselj like he has committed a traffic violation, while First Deputy PM Tomislav Karamarko promised that Zagreb "would react if Serbia opts to leave Seselj to decide whether he would go to The Hague".
Serbian Interior Minister Nebojsa Stefanovic rebuffed condemnations from Croatia saying that the government in Zagreb should look at its own yard. In his words, Croatia has problems with fascism. Labour Minister Aleksandar Vulin said that Croatia should refrain from "giving Serbia lessons".
Chapter 23 in Serbia's talks with the EU, on which Croatia sets conditions, tackles the rule of law. "We support Serbia's efforts to approach the EU. The conditions which Serbia has to meet for the opening of such important Chapter 23 are, among others, respect of human rights, especially the rights of the minorities… full cooperation with the International Criminal Tribunal for the former Yugoslavia", Croatian Ministry for Foreign Affairs stated today.