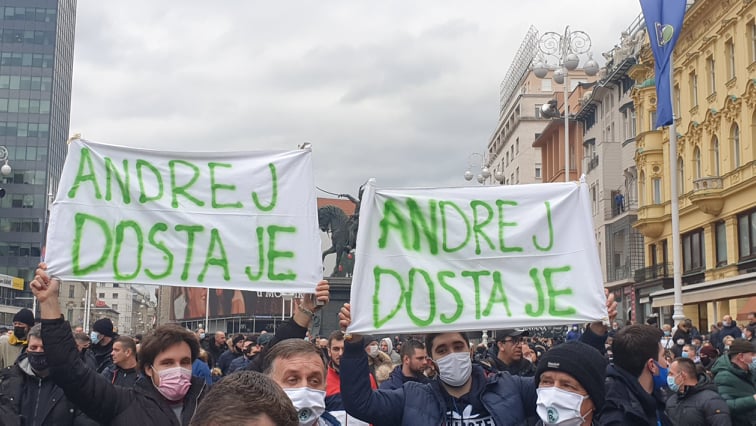 On Wednesday, at a rally organised by the business association "The Voice of Entrepreneurs" (UGP) in Zagreb, protestors demanded the cessation of discriminatory measures, the revocation of additional taxes and mandatory membership fees, alongside the economy minister's resignation.
According to some estimates, several thousand people attended the rally in Zagreb's main square. Although the UGP association called for the COVID-19 protective measures to be adhered, a considerable number of people in the crowd marched without masks, while keeping the necessary physical distance appeared to be a rather hard task.
UGP leader Hrvoje Bujas was scheduled to address the rally, however representative Dražen Oreščanin said that Bujas could not attend the protest after testing positive for coronavirus.
According to the Association, during the rally which the organisers described as "a roar by entrepreneurs that will shake Croatia!", business owners and freelancers, as well as employees and citizens, would be given an opportunity to voice their concerns.
This business association accuses the government and the national COVID-19 crisis management team of letting them down.
During the rally, Oreščanin said they called on the government to provide the owners who suspended their businesses with compensation and at least one one-off grant, as people were struggling to get through after to the closure of their businesses due the pandemic.
The crowd shouted that Economy Minister Tomislav Ćorić should step down.
Protestor Ana Lisak, who comes from the catering industry, told HINA that this sector was recording a downturn of 70%, adding that the situation exacerbated due to the fact that outdoors serving had been banned. She recalled that many enterprises in this sector were on the verge of collapse.
Representative of the Zagreb association of restaurateurs Žaklina Troskot told HINA that state-imposed measures to curb the pandemic were "discriminatory and totally unfair."
"We believe that the government's expectations that (the ban on) the two sectors -catering and fitness industry- would protect the people against the pandemic is unacceptable, and we are desperate." She added that any kind of aid would be welcome.
At the beginning of the rally, several opposition politicians including Hrvoje Zekanović, Željko Sačić, Marko Milanović Litre, Zlatko Hasanbegović representing opposition right-wing parties, as well as opposition politicians from the left wing such as Marijana Puljak, were seen among the crowd in the square. /ibna
Source: HINA