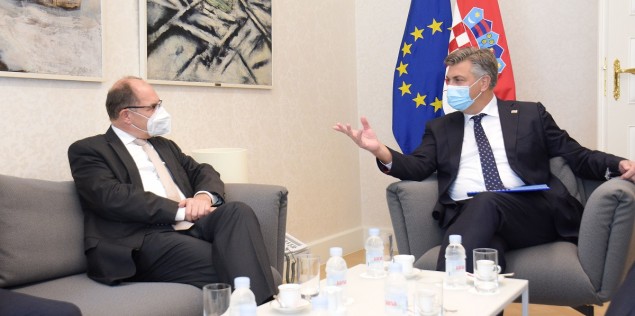 The Prime Minister of Croatia, Andrej Plenković, received today in the Banski dvori the High Representative in BiH, Christian Schmidt, the Government of Croatia announced.
High Representative Schmidt and Prime Minister Plenković exchanged views on current political trends and developments in Bosnia and Herzegovina and the Western Balkans, with an emphasis on Euro-Atlantic integration, the reform path and BiH's economic and social development. Plenković congratulated Schmidt on taking office as High Representative and expressed his support for his work.
They also discussed the process of changing the Election Law in Bosnia and Herzegovina, which requires reaching a consensus of all political participants as soon as possible.
Prime Minister Plenković called for changes to the Election Law in order to ensure equality and legitimate representation of all three constituent peoples in BiH, especially Croats.
High Representative Schmidt emphasized the need to strengthen the functionality of institutions through increased involvement of all political actors in BiH, with the support of the international community. Functionality, he stressed, is a mandatory precondition for BiH to exit the phase of international supervision and progress on the path to the European Union.
Plenković said that at the EU level, Croatia is the strongest advocate of the continuation of BiH's European path.
Schmidt thanked Plenković for Croatia's commitment and support for Bosnia and Herzegovina's and other neighbouring countries' aspirations to join the EU.