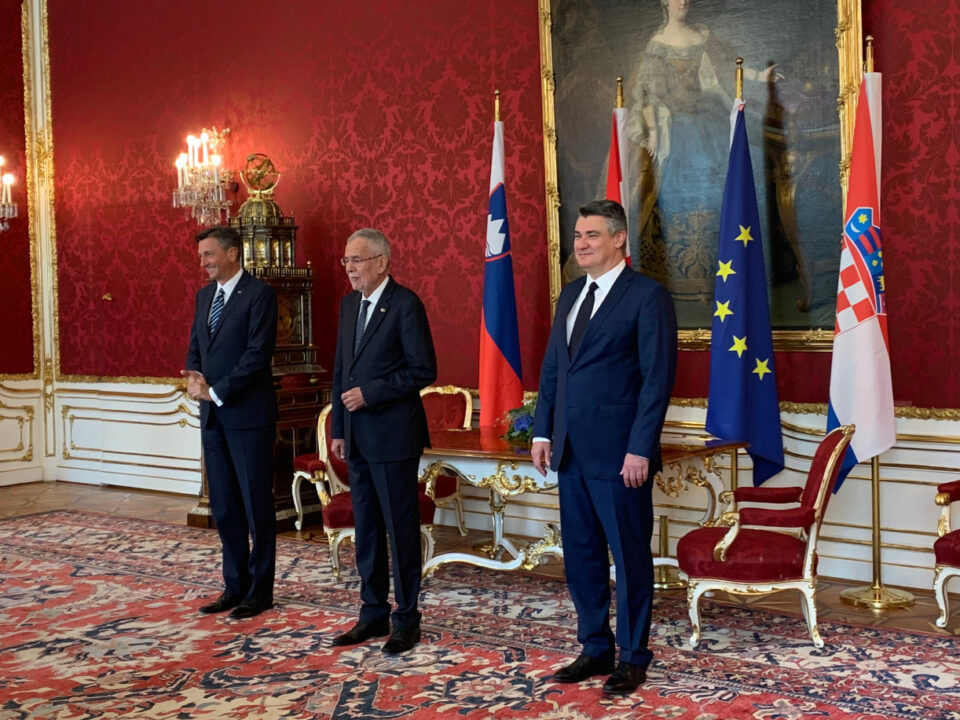 During a working visit to the Republic of Austria, the President of the Republic of Croatia Zoran Milanović traveled to Vienna where he attended a trilateral meeting of the Heads of State of the Republic of Austria, the Republic of Slovenia and the Republic of Croatia.
Discussions between Austrian President Alexander Van der Bellen, Slovenian President Borut Pahor and Croatian President Zoran Milanović at the Hofburg complex in central Vienna mainly revolved around Europe, in the wake of the coronavirus pandemic.
"The corona has come and will pass, but the problems the Earth is facing with climate change, and which Croatia could also face as a country that relies on tourism if we do not act together, are so great that there is no  moment we can stop thinking about them and work on them as much as possible", said Milanović.
"These friendly meetings are important. We are good neighbors, familiar with each other, closely connected, our economies are intertwined. We have the same interests in the economy and in the tourism industry", Van der Bellen said after the meeting. He stressed that everyone was interested in keeping the borders as open as possible, always taking into account the epidemiological situation. He noted that the problem of climate crisis should not be ignored.
Pahor stressed it was important to comply with epidemiological guidelines, in order to contribute to keeping the borders open.
Milanović stated nothing could replace personal contact. "Regardless of what we have been through and what awaits us, life goes on. Our talks have been extremely meaningful", he stressed, emphasizing green policies and ecology. "We must set high goals in this regard. I will advocate for that in Croatia". He invited Austrian tourists to visit Croatia, saying the country was safe.
"This is a great format, these are countries close to each other, this is a society where we can do something constructive and talk openly about the problems the world and Europe are facing after Covid-19. We need to be wary, but we must continue to live normally as much as possible", Milanović added.
During the meeting, special mention was made of future economic relations and the tourism sector, which was severely affected in all three countries due to the pandemic.
During his stay in Vienna, President Milanović will hold a bilateral meeting with Austrian President Van der Bellen, during which he is expected to accept the Initiative for Greater Ambitions in the Field of Climate Change, for which his Austrian host strongly advocates. /ibna