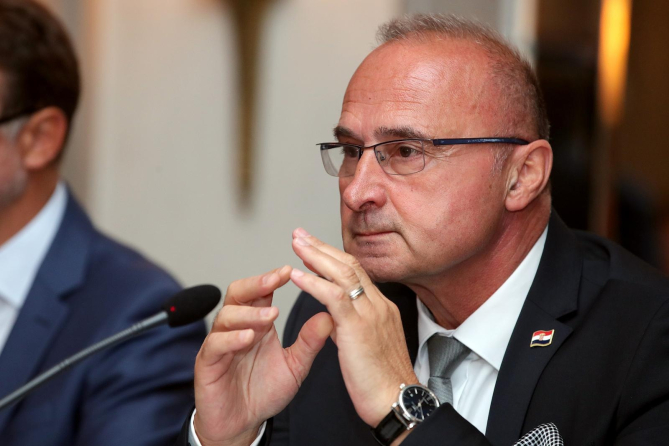 Croatian Minister of Foreign and European Affairs Gordan Grlić Radman on Thursday called on members of the Croatian Parliament to support the government-sponsored amendment to the Sabor's resolution on the declaration of an Exclusive Economic Zone (EEZ) in the Adriatic, which would enter into force on 1 February.
"In that way, we will create conditions for the declaration of an Exclusive Economic Zone to which Croatia is fully entitled under international law," Grlić Radman said in parliament.
On 18 December 2020, the Parliament endorsed the proposal to declare an EEZ in the Adriatic Sea, mandating the government to pursue stronger cooperation between Croatia, Italy and Slovenia at a trilateral meeting in January this year, following the announcement by Italy that it would declare an EEZ in the Adriatic in 2021.
On 14 January this year, the government submitted an amendment specifying that the Croatian parliament resolution would enter into force on 1 February.
The first trilateral meeting at an expert level is scheduled for 29 January this year and will be held by video conference. It will set the ground for a ministerial meeting in March, Grlić Radman explained.
This issue will also be discussed on Friday during the meeting of Grlić Radman with his Slovenian counterpart Anže Logar, who will be making his first official visit to Croatia. Slovenia can under no circumstances unilaterally declare an EEZ, in line with the decision of the arbitration tribunal for the Slovenian-Croatian border dispute.
Logar is heading to Zagreb about a month after the trilateral meeting with his Croatian and Italian counterparts, Gordan Grlić Radman and Luigi Di Maio respectively, during which a statement on cooperation in the protection of the Adriatic was agreed upon.
The statement has not been signed yet, however the Slovenian minister told MPs that the "development of the events inspires optimism."
Slovenia has already received the invitation for an expert meeting in Rome, with the ministry preparing starting points.
At last week's session, the minister heralded a meeting at the level of all three FMs that will ensue the expert meeting, while lastly a session between the countries' prime ministers will take place.
The Foreign Ministry said Logar and his Croatian host Grlić Radman will visit the Sisak-Moslavina county, which was hit by a devastating earthquake in late December. /ibna