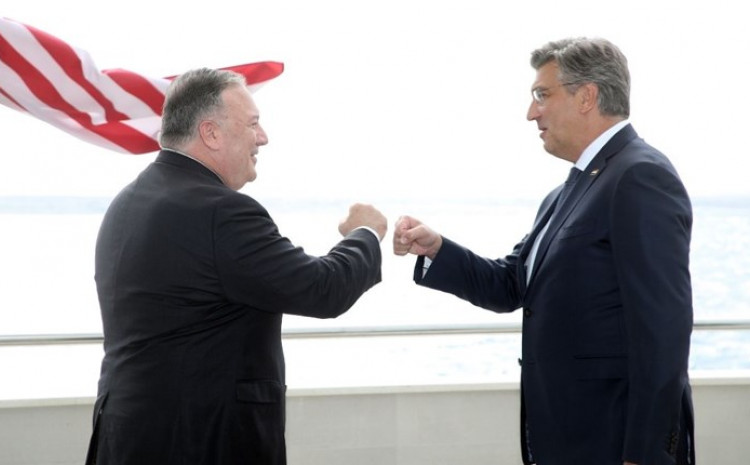 US Secretary of State Mike Pompeo met with Croatian Prime Minister Andrej Plenković in Dubrovnik on Friday. Pompeo is the highest official of the US administration to visit Croatia since the election of Donald Trump as the President of the United States in 2016.
"It is a pleasure to state that we had an opportunity to exchange views on a number of topics […]. The fact is that during the past years we worked with a great deal of dedication to ensure for Croatia to fullfill all prerequisites for the abolishing the visa regime. I hope the United States will see that we have met those preconditions and that Croatian citizens will not be required to have a visa to visit the United States", Plenković told a news conference after the meeting.
"We also discussed energy policy and the fact that Croatia will have its own liquefied gas terminal. This puts us on the energy map of Europe. We also discussed international issues. I would primarily focus on Southeast Europe. Croatia is committed to ensure full equality of all three constituent peoples in BiH", Plenković added.
He thanked the US Secretary of State for his visit and wished a fast recovery to President Trump and his wife, who tested positive for coronavirus.
Pompeo thanked him for his wishes for President Trump.
"I am honored to be here. Our historical relations have come a long way in the last 30 years. We have discussed many topics", Pompeo said.
"We discussed the visa exemption program. We are committed to continuing cooperation. We thank you for your cooperation with NATO and the payment of the financial obligations", the Secretary of State said, adding that the visa issue would be resolved.
Regional topics were also tackled, with the Croatian representatives presenting their views on the situation in BiH ahead of the local elections and the 25th anniversary of the signing of the Dayton Peace Agreement.
"We pointed out that the main principle that Croatia stands by is full equality between all three constituent peoples, which in our opinion should be actualized through the adequate, legitimate representation of their political representatives in BiH institutions", said Plenković.
He added that the process of procuring military planes was also discussed, but that it is an ongoing process and Croatia will make a decision when all assessments are completed. /ibna