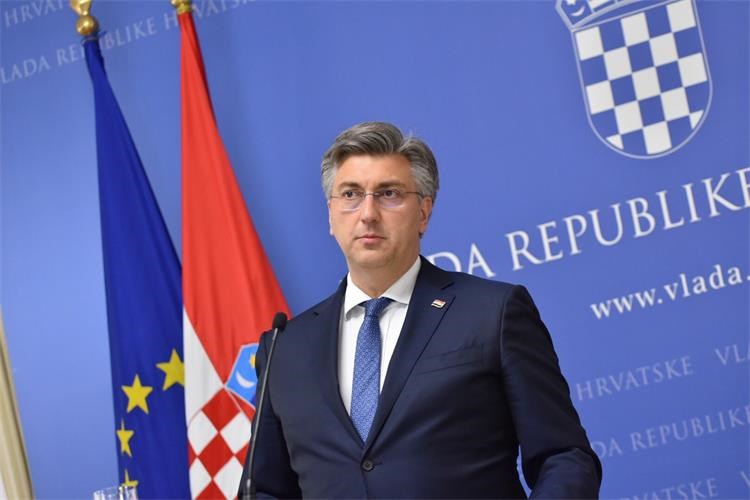 Croatian government spokesman Marko Milić confirmed on Tuesday that Prime Minister Andrej Plenković would undergo testing for coronavirus, following yesterday's meeting with Minister Blaženka Divjak who was placed today in self-isolation, according to reports by Croatian media.
"As was the case with all issues so far regarding our responses against the spread of coronavirus, the opinion of epidemiologists and the Croatian Institute of Public Health will be decisive. We trust the experts and have no reason to question their assessment", Milić stated.
Yesterday, Prime Minister Plenković chaired the sixth session of the National Council for the introduction of the euro as the official currency in the Republic of Croatia. Minister Blaženka Divjak also attended that meeting, and today, in consultation with epidemiologists, she received instructions to remain in self-isolation and to undergo a test for coronavirus.
Regardless of the results of her test, the Prime Minister and other members of the Government who were at the meeting, in accordance with the experts' advices, are not obliged to enter self-isolation, as they wore protective masks throughout the meeting, which, as Milić points out, was noticed by all present photo reporters and cameramen.
"This is yet another example of why it is important to wear a mask and thus protect others from the possibility of spreading the virus. Despite that, and given the responsible duty he performs, the Prime Minister will undergo testing for coronavirus", the statement notes.
All officials of the Ministry of Science and Education, as well as Minister Divjak, received instructions from an epidemiologist on Tuesday regarding self-isolation and emergency testing, after one employee of the Ministry was found positive to coronavirus.
Unofficial sources report that the state-secretary had attended a wedding party in Zadar, where some people were confirmed to have been infected with coronavirus. After returning to Zagreb, she was not tested nor did she remain in self-isolation, and instead attended a staff meeting of the ministry's officials and other sessions in the meantime. /ibna