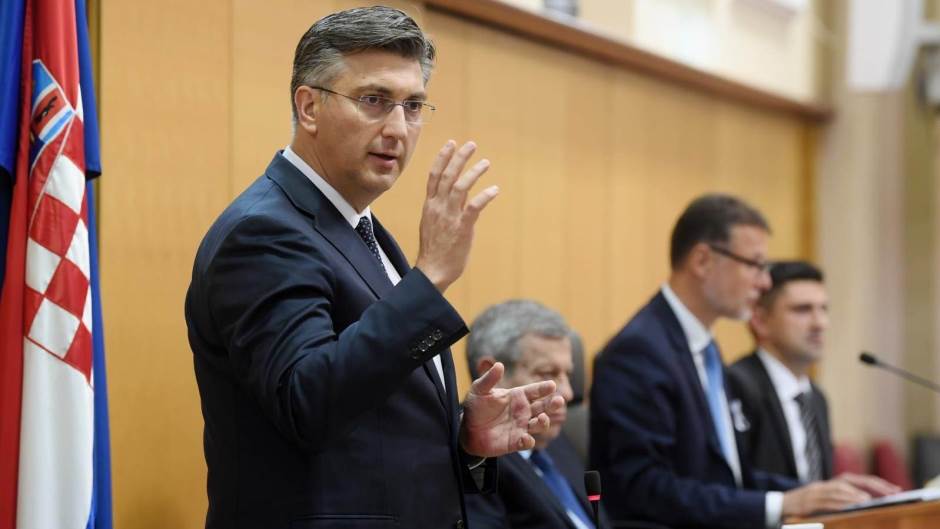 Croatian Prime Minister Andrej Plenković at the beginning of the 222nd Session of the Government at the National and University Library in Zagreb, thanked all those who work to prevent the spread of coronavirus infection in Croatia, and called on Croatian citizens for patience and confidence in the profession and all representatives of the authorities. He said the new set of measures for the economy would help Croatia to preserve employment.
Plenković thanked everyone for doing their outmost in the past month to prevent the spread of coronavirus infection in the Republic of Croatia.
"My gratitude goes to the doctors, nurses, health care staff, police officers, inspectors, soldiers, everyone who in every way does everything to maintain and allow a normal life in the special circumstances we find ourselves", Plenković emphasized.
He reiterated that Croatia faces an unprecedented pandemic which no one has the knowhow how to solve. He said that the dilemma facing not only Croatia, but all countries of the world has an easy choice – we either choose the life of our fellow citizens or choose to put everything on pause, and to give up our usual way of life.
"We, as a responsible Government, have chosen the life of our fellow citizens – and that is the only possible, the only rational, the only right choice", he emphasized and once again called on all Croatian citizens to be responsible and self-disciplined.
"We fight the pandemic with the separation of the infected from the healthy and vice versa. It is the only method that is currently delivering results. That is why I appeal to the support of our fellow citizens in our choice to combat this epidemic in Croatia", he said.
Making a comparison, he stressed, much richer and larger countries, with a longer democratic tradition, a stronger education system, with more generous funds investing in their health systems, are not currently having the kind of results that Croatia has.
He expressed hope that the Croatian Parliament would accept the proposed package of measures because their implementation after their adoption would enable preserve employment and that Croatian companies, from the smallest ones with one employee to the largest, would be given the opportunity to find a way to survive.
"In addition to these measures, the Government will, in the weeks ahead, work on how – once this epidemic is over – to relaunch the Croatian economy and normal business activity as quickly and efficiently as possible", the Croatian Prime Minister added.
He pointed out that the notion of solidarity is crucial for every society.
"All together, whether we are in the private or public sector, we must be aware that we are bearing the brunt of this crisis. It will require some waivers from everyone; these are the steps ahead", he said./ibna