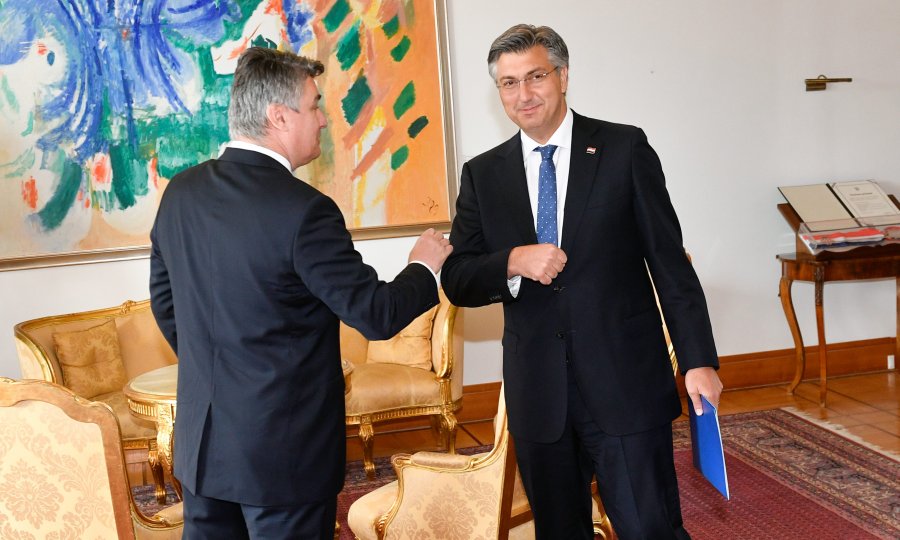 Croatian President Zoran Milanović on Thursday named Andrej Plenković Prime Minister-designate after Plenković presented him with the signatures of 76 newly-elected parliamentary deputies who supported him as the next premier.
Plenković enjoys the support of the 66 deputies from his Croatian Democratic Union (HDZ) and the eight representatives of ethnic minorities as well as from the Croatian People's Party (HNS) deputy and the Reformists' deputy.
At the ceremony, Milanović offered Plenković to shake hands but Plenković refused and answered with "elbow-shaking" gesture. Many consider that this, in fact, is the description of their relation.
The new 151-seat parliament will be inaugurated on July 22.
President Milanović congratulated Plenković, on his party's victory of the 5 July parliamentary elections and wished good health to all the newly elected parliamentary deputies.
At the ceremony, the Croatian President wished the 151 representatives in the 10th parliament to be "healthy, strong, merry and to attend (parliament sittings)."
"I hope that their health will not be compromised and that they will be able to function normally, considering our complicated times," Milanović said wishing also economic recovery in 2021.
HINA reported that the ceremony of naming the PM-designate was held in the Office of the President.
Plenković also outlined the structure of his next cabinet which will consist of 16 ministries, four fewer than the current government.
Plenković said that the new government will have four deputy prime ministers: Davor Božinović who currently serves as the Interior Minister, Zdravko Marić as the Finance Minister as well as Tomo Medved as the Minister of War Veterans' Affairs, and Boris Milošević, who will be the representative of ethnic minorities in the government.
Plenković said that the names of the nominated ministers would be made public next week.
He explained that the downsizing of the number of ministries would be achieved through the merger of the justice and public administration ministerial departments into one ministry, while the construction and state assets ministries will also be merged into one department.
"We are going to merge the ministries of labour and social policy, and the culture ministry will be renamed into the ministry of culture and media. We are going to have the ministry of tourism and sport, and the ministry of economy and sustainable development, which will include the departments of economy, energy, climate change and environment protection," Plenković said after Croatian President Zoran Milanović named him the PM-designate.
The new cabinet will include the ministry of science and education, the interior ministry, the ministry of war veterans' affairs, the finance ministry, the defence ministry, the agriculture ministry as well as the ministry of EU finds and regional development, the ministry of foreign and European affairs, the health ministry and the ministry of sea, transport and infrastructure./ibna