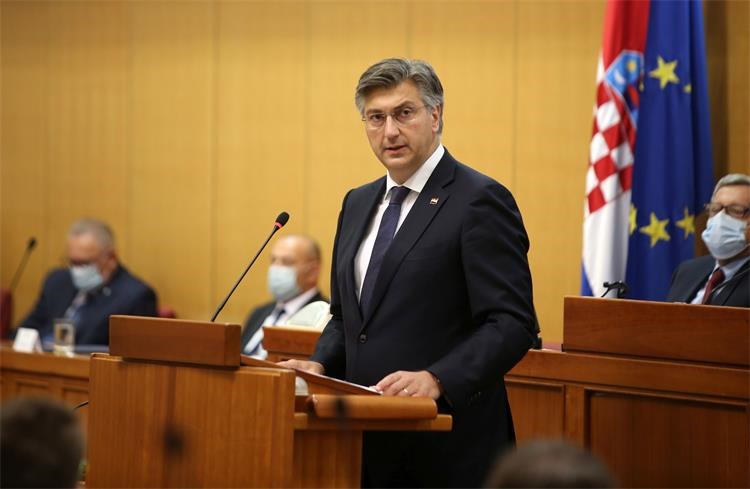 The Prime Minister of Croatia Andrej Plenković presented today in the Croatian Parliament the bill on the Reconstruction of Buildings Damaged in the Earthquake in the City of Zagreb, Krapina-Zagorje County and Zagreb County.
He emphasized that this work should be approached seriously and in an organized manner, and that national funds and international sources of financing will be carefully combined. "It is important that this legal framework, which I believe the Parliament will adopt through two readings, be of high quality, transparent, fair, enforceable and that we reach the greatest possible agreement on it", the Prime Minister said.
He pointed out that it was immediately clear that the reconstruction of Zagreb would become the main task of the Government in the coming years, and said that the amount of damage, estimated at 86 billion kuna (about 11.5 billion euro), exceeds everything that Croatia has been faced with so far.
The government has identified three directions:
"First, we have prepared urgent and short-term measures to take care of the most endangered among our fellow citizens.
Second, we have begun to compile a list of damages and documentation for the international financial assistance we will need to rebuild Zagreb.
And thirdly, that is the reason for today's discussion, the development of a quality legal framework for the long-term reconstruction of the City of Zagreb and parts of the two counties", Plenković said.
He added that the common responsibility of the Government, the City of Zagreb and everyone else, including citizens, is to realize the renewal process in such a way that Zagreb, as well as the surrounding settlements, will be safer tomorrow, but also more comfortable places to live, work and live.
Plenković believes that the reconstruction should be an opportunity for a more dynamic development of the city of Zagreb, but also for solving numerous unresolved infrastructural problems.
"It is up to all of us to turn this challenge and temptation into a historical opportunity for Zagreb, and even for Croatia; an opportunity to make Zagreb a metropolis of the 21st century that will respond to all the modern needs of its inhabitants.
Also, we need to turn it into an opportunity for a new development model by raising the standards of spatial planning and urbanism, but also energy efficiency sustainability for the future; in the opportunity for Zagreb to base its growth and development on better use of all its resources, green industry, new technologies, knowledge-based economy, and innovation and creativity of its citizens; an opportunity to dedicate ourselves to the people, so that all citizens and all residents of the affected surrounding areas can recover from this accident as soon as possible and look at their perspective in a brighter way than after the aftermath of this earthquake", Plenković concluded./ibna