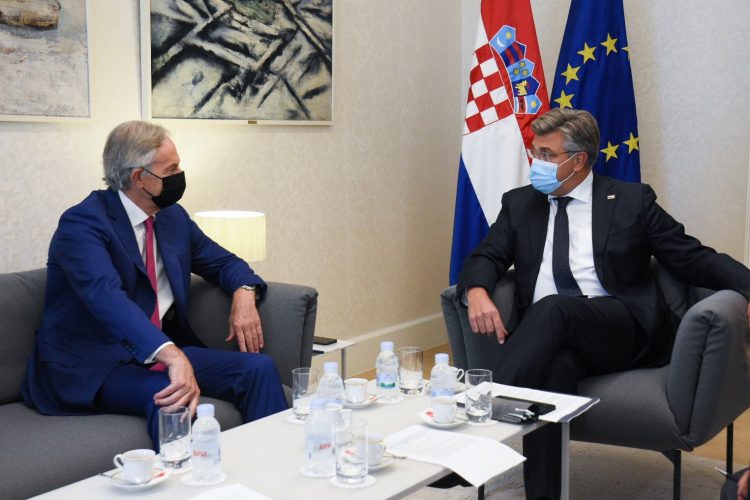 Croatian Prime Minister Andrej Plenković met with former British prime minister Tony Blair in Zagreb on Wednesday to discuss major global crises, primarily in Afghanistan, as well as the COVID-19 crisis, and the post-earthquake reconstruction in Croatia, the government said in a press release.
Plenković and Blair, who is Executive Chairman of the Tony Blair Institute for Global Change, "discussed global circumstances, Croatia's position in Europe and the world, the situation in Afghanistan and security challenges, the global fight against COVID-19, and in particular, the importance of achieving the highest possible global vaccination rate," the press release said.
Also discussed were plans for Croatia's economic recovery in the aftermath of the coronavirus crisis and the reconstruction of its earthquake-struck areas with the help of European funds.
Plenković informed Blair of the measures taken by his government to preserve jobs and the liquidity of companies as well as of key reforms and investments planned as part of the National Recovery and Resilience Plan.
The PM stressed that Croatia's foreign policy priorities in the coming period include admission to the Schengen Area in 2022 and the euro area in 2023.
Blair presented the work of the Tony Blair Institute for Global Change, which advises governments in numerous countries on the implementation of reforms in various areas.
Asked whether Blair will be a mediator in the disputes with neighbouring countries, Plenković on Thursday said that it is not planned and that former UK PM just presented the activities of his Institute.
Mr Blair will deliver a keynote address at a two-day annual gathering of Croatian diplomats at a particularly sensitive time for Croatia, the EU and the world, following the fall of Afghanistan to the Taliban and the West's failure to democratize the war-torn country.