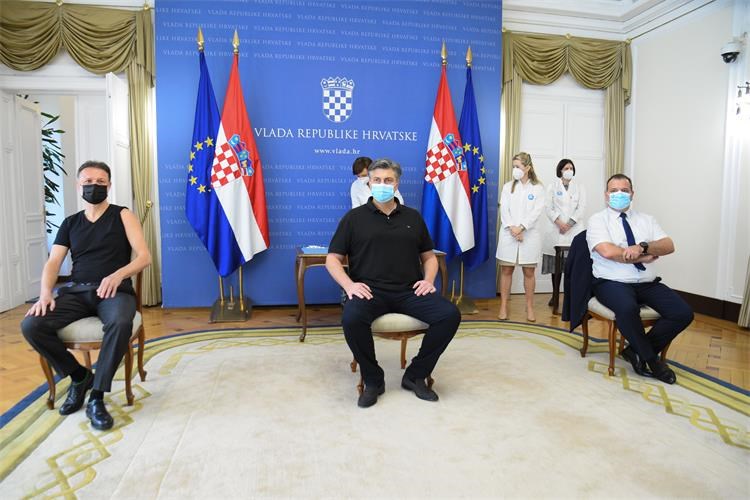 Prime Minister of CroatiaAndrej Plenković, Sabor President Gordan Jandroković and Health Minister Vili Beroš publicly received their AstraZeneca vaccine doze against COVID-19 at the Banski dvori.
Minister Beroš described today's vaccination as proof of trust in this vaccine, which will encourage citizens to get vaccinated.
"Today, we sent a strong message of trust in medical science, in the profession, especially because we were vaccinated with the AstraZeneca vaccine. We will continue to work dedicatedly to vaccinate Croatian citizens so that they can continue to live and work with minimal risk levels of infection. Every vaccinated individual contributes to the protection of the population and is certainly a step closer to our previous, normal life, and a step closer to a successful tourist season," Beroš told reporters after receiving the first dose of the vaccine.
He added that there are still many challenges ahead, noting that it is important to think about future challenges such as new variants of the infection.
"I believe that with this message, we have encouraged other citizens to follow in our footsteps, to curb the epidemic and return to our normal life and lifestyle," Beroš emphasized.
Despite having recovered from COVID-19, Jandroković, Plenković and Beroš joined numerous European leaders who wanted to shut down any doubts about the quality of the AstraZeneca vaccine by choosing to get publicly vaccinated, according to the Croatian Government.
There are seven more doses left in the AstraZeneca vaccine bottle, which expires in two days and will be returned to the Croatian Institute of Public Health and used accordingly, depending on the priorities, said the Minister of Health.
A fairer distribution of the vaccine remains one of the main topics in the EU, with Croatia insisting on a "corrective mechanism" to distribute the doses present on the market in solidarity, Beroš said, adding that there were no indications that the deliveries of the ordered vaccines would be delayed.
"More vaccines are expected any day now. For now, there are no indications that the arrival would be disrupted," he said.
He estimated that the vaccine supply would stabilize, while according to some forecasts more than 10 approved vaccines are expected to start circulating in Europe, which will deflate demand and prices. /ibna