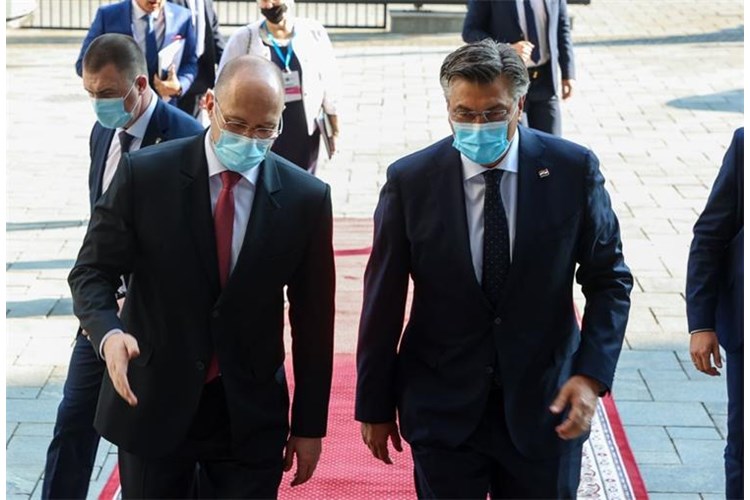 Croatia offers Ukraine its experience in the peaceful reintegration of occupied areas and also assistance in the removal of landmines, Croatian Prime Minister Andrej Plenković said on Monday after meeting with his Ukrainian counterpart Denys Shmyhal in Kyiv.
Croatia entirely supports Ukraine's territorial integrity and it possesses specific skills that can help this eastern European country to peacefully reintegrate its occupied areas, Plenković said.
Recalling the events in the 1990s, Plenković emphasised the fact that Croatia's peaceful reintegration of its Danube region "has been one of the most successful UN-run operations ever, particularly on European soil."
He added that Croatia is already helping Ukraine with its experience in addressing the issues and needs of war veterans, and pledged the support of Zagreb to Ukrainian efforts to remove landmines. We have companies specialised in de-mining and we are willing to make our assistance available to Ukrainian authorities, he said.
Plenković arrived in Kyiv on Sunday to take part in the inaugural summit of the Crimean Platform, which is taking place on the eve of the 30th anniversary of Ukraine's independence.
Ukrainian president Volodymyr Zelenskyy, who announced the launch of the Crimean Platform last year, has recently said that the platform intended to address the issue of the militarization of that peninsula, the liberation of more than 1000 Ukrainians who are political prisoners and to consider the status of Crimean Tatars.
Ukraine's PM Shmyhal thanked Plenković for all his support to Ukraine on its journey to Europe.
Croatia is an advocate of Ukraine's European journey, and helps Kyiv in the implementation of the Europe-bound reforms and in the processes envisaged by the EU-Ukraine Association Agreement, he added.
Shmyhal also invited Plenković to pay a visit to Ukraine this autumn.
Plenković thanked Ukraine for its assistance in the aftermath of the devastating quakes that hit Croatia in 2020 and in the evacuation of Croatian nationals from Afghanistan.