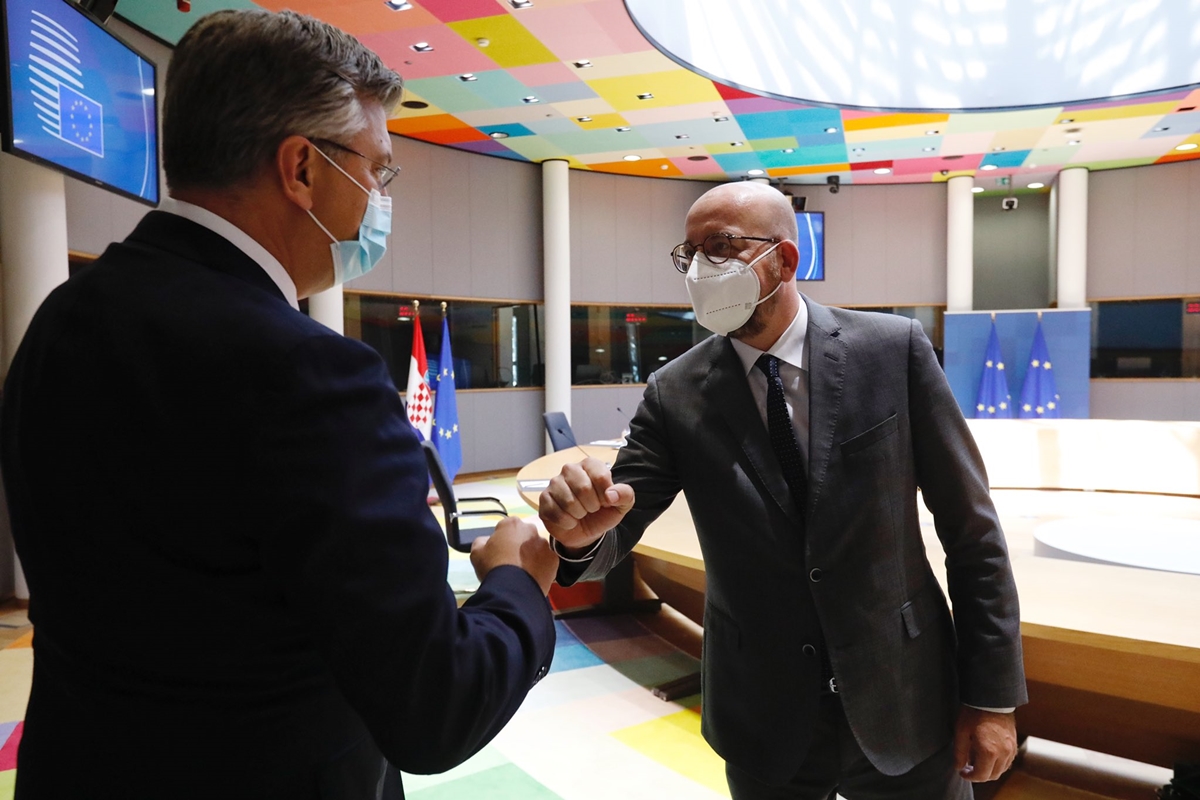 Croatian Prime Minister Andrej Plenković said on Monday after a meeting with the President of the European Council Charles Michel that the two condemned the forced landing of a Ryanair civil plane in Belarus and demanded an international investigation.
Plenković met with Michel in Brussels on Monday afternoon ahead of an EU summit.
Croatia's Prime Minister wrote on Twitter that he had spoken with Michel about "the fight against COVID-19, the vaccination process, Croatia's entry into the Schengen Area and the euro area and the continuation of enlargement."
"We condemn the unacceptable move by the Belarusian authorities and demand an international investigation," Plenković said.
After the meeting, Plenković stated that Michel expressed a strong understanding for Croatia's entry into Schengen and the Eurozone. He added that Croatia has fulfilled all the conditions, which was confirmed by the European Commission, and that membership in Schengen is crucial for Croatia, as well as the EU, for implementing strategies in the fight against illegal migration because Croatia guards the EU's external borders with over 6,000 police officers.
Plenković also said that he believes that Croatia's entry into Schengen is possible during the Slovenian presidency of the Union because, as he said, Croatia has met all the technical criteria.
"Looking at the great relations we have with the Republic of Slovenia, it would be good for our entry into Schengen to be right during the Slovenian presidency of the union," Plenković said, announcing that he would discuss it with all member states in order to gain political support.
Plenković then spoke with the Commissioner for Home Affairs Ylva Johansson at the Commission's headquarters.
S povjerenicom @YlvaJohansson o ulasku 🇭🇷 u #Schengen nakon pozitivne ocjene @EU_Commission, koja je potvrdila spremnost 🇭🇷 za pristupanje. @mup_rh odgovorno čuva vanjsku granicu 🇪🇺 te sprječava nezakonite migracije, poštujući nacionalno, europsko i međunarodno pravo. pic.twitter.com/2Y7P0NVXFA

— Andrej Plenković (@AndrejPlenkovic) May 24, 2021
The two-day summit of the leaders of 27 EU member states starts on Monday evening, and the agenda includes meeting the set goals for climate protection, foreign policy issues, and the COVID-19 situation.
EU leaders will also address the unprecedented move by the Belarusian authorities, who on Sunday forced a Ryanair flight from Greece to Lithuania to land in Minsk and then arrested Roman Protasevich, one of the main opposition activists who were on board. It is expected that there will be a debate on measures the EU could introduce against the Belarusian regime.