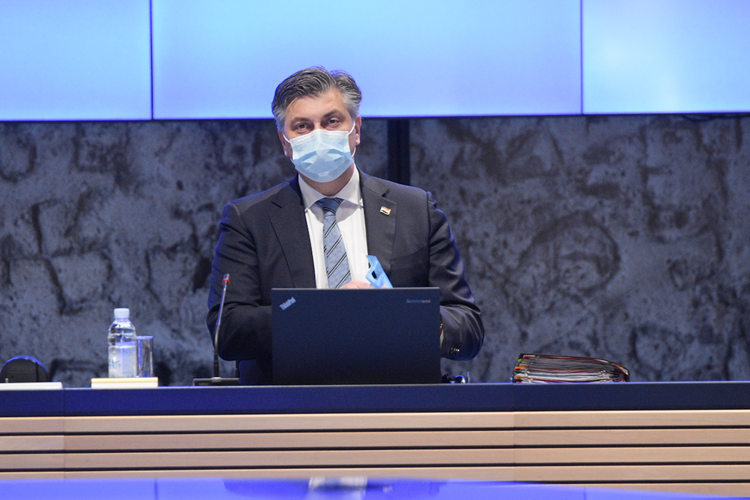 On Thursday, Croatian Prime Minister Andrej Plenković announced the relaxation of certain measures to curb the coronavirus pandemic starting March 1, but also the continuation of measures for the preservation of jobs.
He pointed out at the Government session that, for 10 weeks in a row, the numbers in Croatia have oscillated 11 times.
Compared to last Thursday, he said, this week there is a certain increase in the number of new outbreaks.
He added that at this moment, it is not possible to determine with certainty what causes this trend, whether it was due to the cold wave, the easement of measures or the wider relaxation in terms of behaviour.
"In any case, we still have to be very careful. Today, along with Denmark, we are the country with the lowest weekly incidence of new infections in the European Union," Plenković said, adding that it was good that the number of newly infected and hospitalized, those on respirators and the number of deceased remained low.
"According to all indicators, the situation is ameliorating but still requires great caution," Plenković said.
He added that, after a series of consultations with all departments, the resumption of catering services on terraces and open spaces is envisaged from March 1, within the prescribed epidemiological framework.
Indoors training will also be allowed, under specific conditions with regard to contact and team sports.
"We will continue with the appropriate monitoring of our economy and our entrepreneurs. The line ministers will continue the dialogue with interested representatives of the economy. We will try to meet the measures for preserving jobs, within what is possible at the moment," Plenković announced.
He once again appealed for caution and monitoring of the situation in other countries.
"We have several smaller hotspots in a couple of counties at the moment; we should not be complacent," the Prime Minister warned, adding that these measures are appropriate to the situation.
He emphasized that, if the situation worsens, more restrictive measures can always be adopted.
"We strive to preserve health, protect the economy, maintain financial stability, salaries, pensions, job benefits and everything we do, we do it in the interest of Croatian citizens with full responsibility to achieve the best we can," he said. /ibna