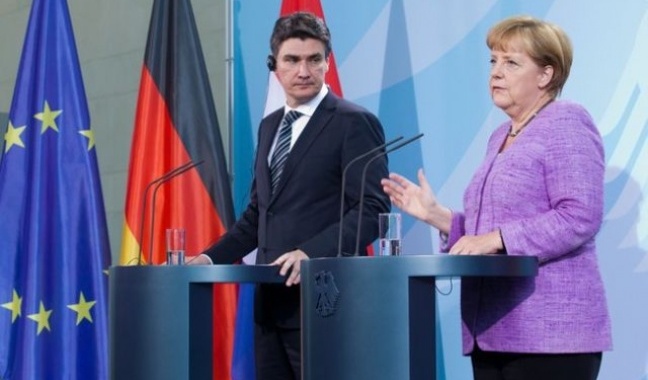 By Marija Avramovic – Zagreb
The conference on Western Balkans, which is to be helded today in Berlin, will be attended by heads of state, along with government and ministers of foreign affairs and the economy from six Western Balkan countries and the leaders of the European Commission, Germany, Austria, Croatia and Slovenia.
The croatian delegation will be led by prime minister Zoran Milanovic, while on behalf of croatian government, Foreign Minister Vesna Pusic and Economy Minister Ivan Vrdoljak will also be attending.
The aim of the Berlin meeting, according to a statement by the german government, is to consider the issues over a period of several years and give new impetus to resolve them. In doing so, the focus will be on the mutual cooperation of these countries on issues of their approach to the EU.
As a regional leader, Croatia is expected to help other countries on the way to the European Union – in particular Bosnia and Herzegovina.
One of the topics will include the Adriatic-Ionian motorway, and the Peljesac bridge, which is a priority for Croatia.
The conference begins in the morning with the meeting of ministers of economy which, after the introduction by the German Vice-Chancellor and Minister of Economy Siegmar Gabriel, will hold two discussion.
In the afternoon, German chancellor Angela Merkel will hold the working meeting, in her office, with the heads of state and governments of Western Balkans aa well as Austria, Croatia and Slovenia.
In the opening of the conference, Vrdoljak said that this was an excellent opportunity to present Croatia as energy and economic leader in the region and attract foreign investment and to talk with german companies on the implementation of projects such as LNG, exploitation of oil and gas in the Adriatic Sea and on land, and new the projects of HEP.
Three days before the Berlin gathering Milanovic hosted in Cavtat his counterparts from Albania, Bosnia and Herzegovina, and Montenegro, Edi Rama, Vjekoslav Bevanda and Milo Djukanovic respectively. They discussed cooperation and possible joint projects, while special attention was given to the future of the Adriatic-Ionian highway.