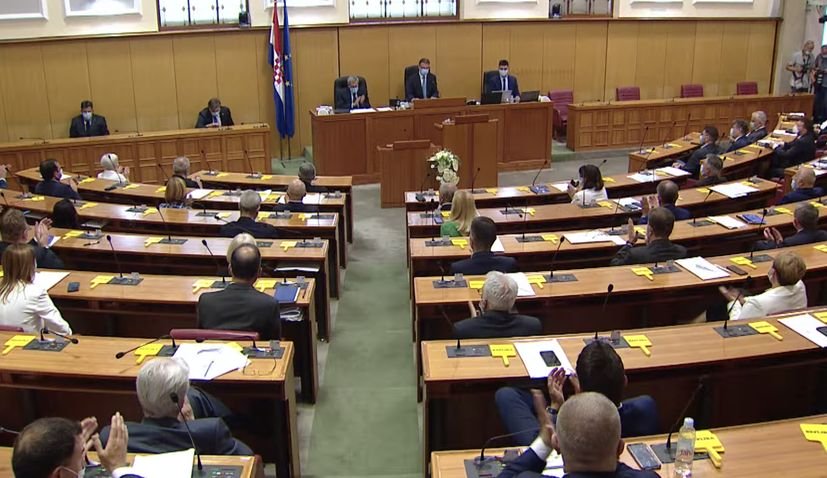 Croatian opposition MPs announced on Wednesday before the Parliament (Sabor) that they would be supporting a motion by the Social Democratic Party (SDP) to launch a procedure to have Economy Minister Tomislav Ćorić and Health Minister Vili Beroš replaced.
It is especially important that the motion have the unison support of all opposition parties.
Homeland Movement member Stjepo Bartulica said he believed his party caucus would support the motion at the Sabor. He recalled that the Homeland Movement had already submitted a request for an interpellation on the government's conduct in the Krš-Pađene wind park case.
That scandal should really cause concern among Croatian citizens, he told reporters in Parliament.
"Green policies are costly. They may sound good but, in this case, contracts were signed for a period of 14 years. It is estimated that the effect of those harmful contracts for Croatian taxpayers exceeds two billion kuna", Bartulica said, adding that more than multiple administrations were responsible for that, however Minister Ćorić was the most responsible, which was why the Homeland Movement would support his replacement.
As for the motion to replace Health Minister Beroš, Bartulica said the situation in the health sector could not be hidden under the rug, and one should exert pressure to reform the system as soon as possible.
MP Dalija Orešković (SSIP, Pametno, GLAS) said that she would be supporting the motion for Ćorić's replacement, as she believes there are elements in his work that warrant such a move.
"If we were a law-based state, the moment when information became public regarding Coric stepping into a famous illegal club (run by former JANAF CEO Dragan Kovacevic, arrested on corruption charges) accompanied by someone who falls within his ministerial remit, he should have resigned of his own accord for reasons of civility, maintenance of democratic standards and the fact that it constituted an evident conflict of interest", Orešković said.
Asked if she would be supporting the SDP's motion for Minister Beroš to step down, Orešković said she believed a part of the main opposition would submit a joint motion regarding Beroš and her party group would be hopping on board.
She warned that the health system had collapsed and the coronavirus pandemic was being used as an excuse for structural problems in the system remaining undealt with by all parties. /ibna