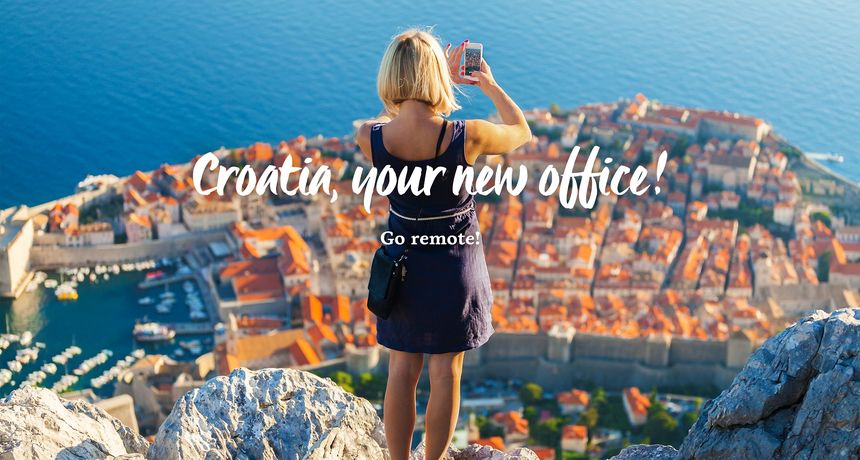 The Croatian National Tourist Board has launched a new promotional campaign "Croatia, your new office!" with the aim of positioning Croatia as an attractive and well-prepared destination for digital nomads. The advertising campaign, in addition to PR and media activities, will be carried via Facebook and Twitter with a special focus on the US, Canadian and the UK market. As part of the campaign, a special landing page "Croatia- your new office!" was created in English on the Croatia.hr website in collaboration with the Ministry of Tourism and Sports, which contains all the important information related to the permit application process and stay of digital nomads in Croatia.
"Croatia is one of the first members of the European Union to regulate a one-year temporary stay for digital nomads, and this is the result of the cooperation between the Ministries of Interior, of Foreign and European Affairs, of Health, of Finance, as well as the Ministry of Tourism and Sports. Croatian tourism recognizes this opportunity in the context of the development of year-round tourism. With a quality offer and simpler procedures, we are striving to attract as many digital nomads as possible and thus promote our destination. Digital nomads represent an excellent opportunity for the Croatian economy, and we are pleased with the fact that they are showing an increased interest in numerous Croatian cities. I believe Croatia will capture digital nomads' heart with its natural and cultural beauties, as well as its authentic offerings. I wish all current and future digital nomads a warm welcome to one of the most desirable and unique European destinations; Croatia," Tourism and Sports Minister Nikolina Brnjac stated.
It is worth noting that, at the end of November 2020, the Croatian Parliament adopted the Aliens Act which entered into force at the beginning of 2021 and stipulates that "digital nomads" may be granted temporary residence in the country for up to a year.
"The goal of the latest campaign is to promote Croatia as a country that can guarantee digital nomads a comfortable and safe stay and quality living conditions. Croatia is a country where English is widely spoken, that offers a unique way of life with authentic experiences, good internet connection, favourable climate and beautiful natural surroundings, good proximity, while it is also easily accessible to the rest of Europe, highly affordable compared to European standards and provides good and affordable healthcare," Kristjan Staničić, Director of the Croatian National Tourist Board said, adding that he expects the new legal framework and the campaign, which will be carried out periodically throughout the year, to have a positive impact on the number of digital nomads in Croatia in the future.
As the National Tourist Board noted in a press release, this has also been recognized by many foreign media outlets, including the world's leading brand of travel guides Lonely Planet which dedicated a recent article to the topic of digital nomads and the conditions foreigners must meet to spend a year in Croatia. Additionally, the reputable magazine Forbes published in both the French and American edition an article about Croatia as a desirable and open destination for digital nomads. Finally, numerous American media list Croatia and Dubrovnik as extremely desirable destinations for digital nomads. /ibna