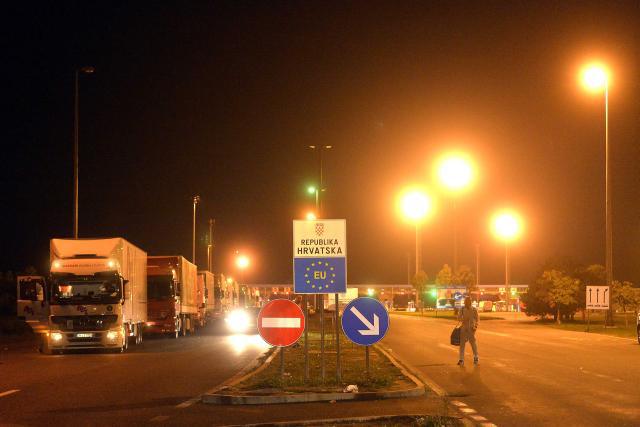 Belgrade, September 25, 2015/Independent Balkan News Agency
By Milos Mitrovic
The government of Croatia has decided to open its border crossings with Serbia today. The move has been taken after European Commission demanded explanation from Zagreb for blocking the border.
Earlier today EU's Neighbourhood Policy and Enlargement Commissioner has appealed to Croatian government to revoke its decision on blocking the border. Such a move would be in the mutual interest of all people in the Western Balkans, Johannes Hahn said in Belgrade.
Speaking at the media conference with Serbian Prime Minister Aleksandar Vucic, Hahn said that the measures taken by the Croatian government amid refugees' crisis were discriminatory against Serbia and not proportional.
Earlier this week Croatian government has blocked its border crossings for Serbian trucks, complaining that Serbia was sending all refugees to Croatia. When Serbia reacted by prohibiting imports of all Croatian goods, Zagreb banned Serbian nationals and cars to cross the border.
At least 60,000 refugees have entered Croatia after Hungary has sealed its border with Serbia.
The freedom of movement is in the interest of the whole region and is important for economic stability, Hahn said.He suggested that Croatia has violated EU's Stabilization and Association Agreement with Serbia. "The measures taken by the Croatian government were not proportional and were definitely discriminatory, because they affect the trucks from one specific country", the Commissioner explained.
According to Hahn, current refugee's crisis is the biggest in Europe "ever".
Serbian PM Aleksandar Vucic said that Belgrade has deserved the opening of chapters in accession negotiations with the EU. In that sense, he thanked Hahn for the "encouraging signals".
Vucic also thanked Hahn for being "concrete and correct" considering fresh row between Serbia and Croatia. In his words, Hahn has said exactly what has been expected.
Although Serbia is not an EU member, Vucic has offered the country's participation in EC's quotas scheme for replacement of 120,000 refugees within the EU. The idea was not accepted, Vucic added.
Photo: Tanjug/Nemanja Jovanovic