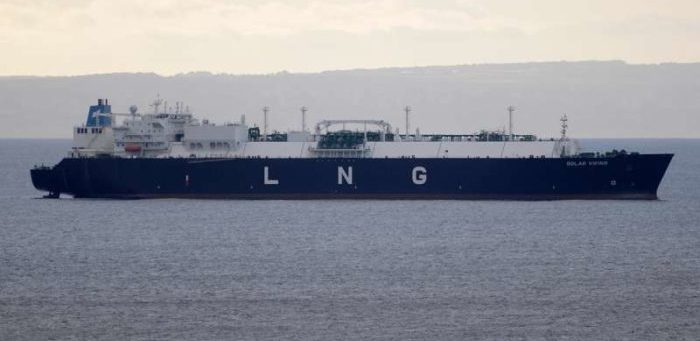 The trial operation of the Omišalj floating terminal on Croatian island Krk will be kicking off on Wednesday, LNG Croatia company director Hrvoje Krehen announced.
The "LNG Croatia" vessel sailed into Omišalj on the island of Krk on Tuesday, carrying the first amounts of liquefied natural gas for the trial operation of the Omišalj floating terminal.
On this occasion, Economy and Sustainable Development Minister Tomislav Ćorić said that Croatia was now provided with an alternative supply route, and this way the country has earned its place on the global energy map.
This development signals the realisation of everything we have been dreaming since 1993, the minister underscored.
"LNG Croatia" has a storage capacity of 140,000 cubic metres, with a nominal LNG regasification capacity of 300,000 m3/h, or an annual capacity of 2.6 billion cubic metres.
"LNG Croatia" is a Floating Storage and Regasification Unit (FSRU) and will be one of the main elements of the terminal. The FSRU, equipped with state-of-the-art security systems, will enable the docking of all LNG transport vessels with capacities ranging from 3,500 to 265,000 cubic metres.
Ćorić announced that the government had provided €100 million for the implementation of this project, while €101.4 million had been secured as a grant from European Union funds.
Overall, the cost of the construction of the LNG terminal and the procurement of the LNG Croatia vessel was calculated at €233.6 million. The remaining funds were provided by the Croatian energy company HEP and the Plinacro gas oil pipeline operator.
Reassuring local residents about the advantages of the project, Ćorić stressed that the terminal adhered by the highest ecological standards and the local community would be rewarded with some type of compensation for providing the location for the terminal.
On November 21, the "LNG Croatia" vessel sailed from the "Viktor Lenac" shipyard towards the Spanish port of Sagunto, where it loaded the LNG needed for the trial operation of the terminal in Omišalj.
The ship is 280.17 meters long and 43 meters wide and has a gross tonnage of 96,576 tons. The storage space consists of four parts with a total capacity of 140,206 cubic meters.
The FSRU ship-floating unit for the reception, storage and gasification constitutes an integral part of the floating LNG terminal. Along with the FSRU ship, the floating LNG terminal forms a pier, which will be able to dock the largest LNG tankers, auxiliary plants and the connecting gas pipeline to the new Omišalj-Zlobin gas pipeline, which links the terminal with the Croatian gas transport system.
The technical capacity of the terminal is gasification of 2.6 billion cubic meters of liquefied gas per year. All capacities are already leased for the next three years; 80 per cent of the capacities have been leased until 2027, while about half of the capacities have been leased for the following years until in 2035.
A return on investment is expected already with the lease of 0.52 billion cubic metres of natural gas per year. Annual operating costs have been estimated at €13 million. /ibna