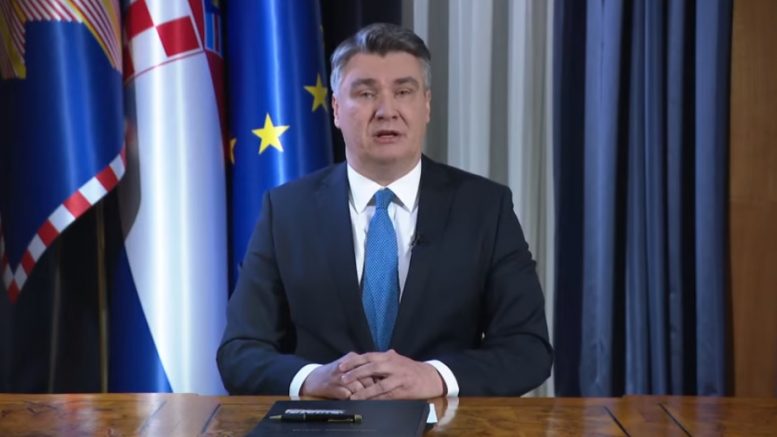 Croatian President Zoran Milanović said on Friday that only the National Security Council (VNS) could determine whether a radicalisation had occurred in the Croatian society. Nonetheless, it was not convened after the shooting in St. Mark's Square, describing the decision as an irresponsible behaviour.
Two days ago, a meeting of the Coordinating Committee for Homeland Security was held, with Milanović arguing that that was not the body authorised to send out instructions. This jurisdiction falls under the VNS, the umbrella-organisation for national security and which, according to the Law on Homeland Security, represents the "mastermind of the entire national security system".
"A subordinate body, which has no authority to launch any initiatives, cannot be convened first", said Milanović, claiming the context of the Coordinating Committee's recommendations to be senseless.
Milanović does not agree that a police curfew should be introduced because of the coronavirus pandemic and the leap in outbreaks, adding that whoever made that suggestion should be "sent away."
"This is a fight for health and most importantly for humanity's mental well-being. I think that anyone who is thinking of a police curfew should be sent away. People get goosebumps if a police curfew is even mentioned", he said.
"I am not following the situation daily, but I can see that people are struggling with their mental health…I do not want to hear of a police curfew", said Milanović, who believes such a decision would lead to a complete chaos.
Commenting on the 2020 budget revision and proposed budget for next year, Milanović said that this was the best that could have been done amid the current circumstances, expressing his support to the government in that regard.
"The government is in a very difficult situation. I have accepted that from the beginning…I am not the enemy, I am not the main opposition leader…the budget is as good as it can be at the moment", he said.
All European countries will experience huge budget deficits as forecast growth rates targets were by no means met, which creates a gap in the budget, he added.
"The government has my support regarding the budget, but I am also suggesting that it amends some elements to the Criminal Code, such as the duration of anti-corruption cases where the suspects are state officials. They need to be completed within a year in the first instance", Milanović concluded. /ibna