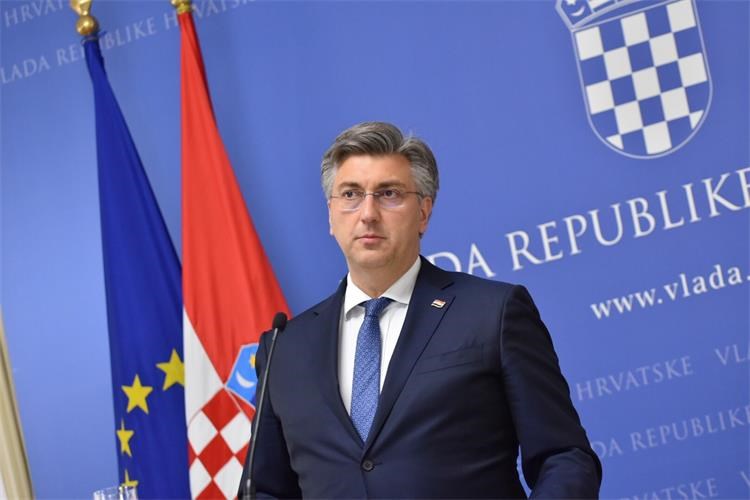 President of the Croatian Democratic Union (HDZ), Andrej Plenković, said on Tuesday that the date of the parliamentary elections remains July 5, and that it is necessary to work wisely and smartly for the benefit of the Croatian economy, while preserving the public health system.
When asked by reporters whether the parliamentary elections remain on the same day, Plenković answered in the affirmative.
"Of course it remains the same. It is not at all clear to me how the elections can be called into question. The elections will be held on July 5, for which the State Election Commission (SEC) is responsible. Croatia today, regardless of 20 or 19 cases, is still among the three EU countries, which have the least active cases of Covid 19 per million inhabitants, and that is the message that Croatia is a safe country".
When asked if he comes to Bakar (after being at the tennis tournament in Zadar) "negative or positive", Plenković answered – "negative". "Now I have a lot of experience visiting Croatia, I know exactly what I do and how I behave, I don't put myself or others in danger".
Plenković said that the SDP first underestimated Covid 19, and then said that there would be 400,000 unemployed. He emphasized that there are not so many unemployed, thanks to the Government and her "step forward" in which six billion kuna was set aside for salaries in three months, adding that this will continue for the sectors that need it.
"In doing so," he said, "we secured budget financing … The last time we issued bonds on international markets, the interest was such that we could issue bonds worth nine billion euros, and we stayed at two billion".
He added that experts have given clear indications that Covid 19 has been reliably determined to have the lowest intensity during the summer months and that everyone is much more sceptical about what can be expected in the fall. "That is why our decision, guided by the health security of citizens, is that we need elections and new legitimacy now, when the disease is at its lowest intensity, so that we can form a government and faces both economic and public health challenges in the fall".
"The fact that we now have a slightly increased number is localized at several points in Croatia, and we must again pay more attention to health institutions and homes for the elderly. We must learn and live with Covid 19 until there are drugs and vaccines globally".
Answering the question about the tennis tournament in Zadar, Plenković said that it should be seen whether the organizers did everything that needed to be done. He assessed that the intention of the organizers to bring the best tennis players in the world together was very good. "What happened to one, two players, a couple of coaches, we are examining it as we speak. We will see if there will be other consequences. The first tests from yesterday look pretty good, because no one is positive except one boy".
Asked if he was considering tightening measures on the border with Serbia, he said he thought the crisis headquarters would take care of it. "If it turns out that a very large number of newly infected people are caused by arrivals from some of the countries such as Serbia, it is normal that measures at the border to be strengthened immediately"./ibna