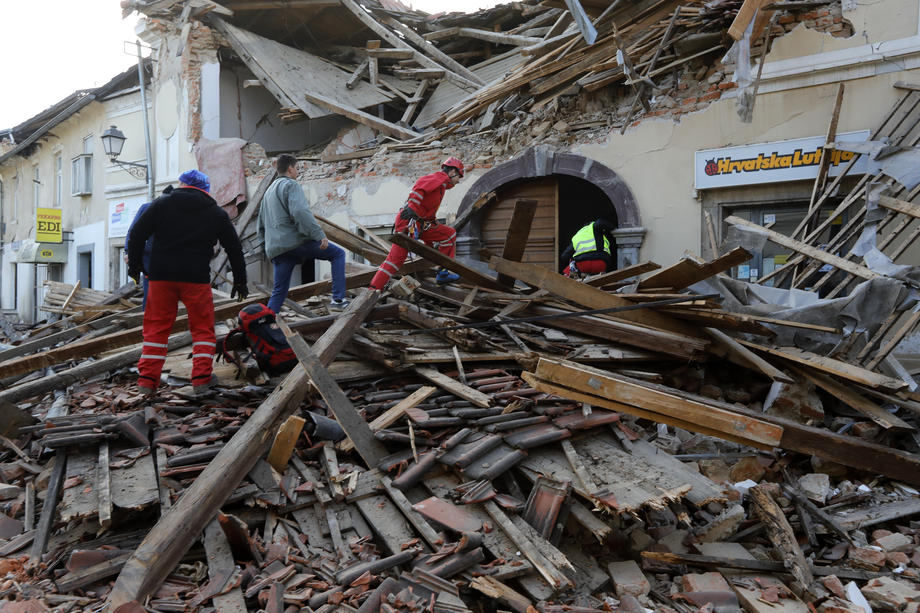 Three new tremors shook the Petrinja region this morning, however not so strongly as yesterday's devastating earthquake that left at least seven people dead.
The Seismological Service of the Republic of Croatia reported this morning that three separate earthquakes shook the region, the first at 6:15 am, followed by another one at 6:26, and the last one at 6:29 am. These were relatively strong earthquakes; the first one was magnitude 4.7 on the Richter scale, the second 4.8 and the last 3.9, while all three had an epicentre not far from Petrinja.
Croatian Mountain Rescue Service (HGSS) head Josip Granic said on Wednesday that over the night HGSS members had visited 84 villages and hamlets in areas struck by yesterday's 6.2 earthquake, finding no one under rubble or in need of emergency assistance. He stated that members of the HGSS had found several injured in villages near Petrinja.
The majority of citizens in Petrinja, Sisak and the wider region spent the night in their cars or under improvised tents. On Tuesday, Croatia activated the EU Mechanism for Civil Protection, the program intended for providing emergency assistance – and requested winter tents for 6 to 8 people, lamps with protection from PVC mesh (indoor), electric heaters, folding beds, sleeping bags and containers for housing etc. The first aid package arrived on the same day from the Republic of Slovenia, at the initiative of the Protection and Rescue Directorate of the Ministry of Defense. The package included 4 containers, 12 bunk beds with 24 mattresses and 200 sleeping bags, which arrived during the night at the central civil protection warehouse in Jastrebarsko, from where they were transported to the affected areas in accordance with the assessed needs.
In addition to Slovenia, Austria responded to the Croatian request for help with 470 folding beds; Italy with 100 winter tents; Greece with 40 tents, 50 electric heaters, 500 folding beds, and 500 sleeping bags; Romania with 50 tents, 100 folding beds, 200 sleeping bags and 14 housing containers; Sweden with 60 tents and 2000 folding beds; Czech Republic with 2 lamps with protection, 1 balloon lighting tower, 10 electric heaters, 600 folding beds and 1200 sleeping bags.
The Croatian government will allocate 120 million kuna (€16 million) in emergency aid to the areas hit by yesterday's earthquake in central Croatia, Finance Minister Zdravko Marić announced on Wednesday.
Marić added that EU assistance was also expected to address the damage caused by the quake.
"Re-allocations were made in the budget yesterday," he told state radio.
Marić added that 110 million kuna (€14.6 million) would be spent directly out of the government budget, while the remaining 10 million kuna (€1.3 million) would derive from the state-run Environmental Protection Fund.
"We will work on finding additional sources of financing from European funds, the Solidarity Fund, via international financial institutions," Marić said. /ibna