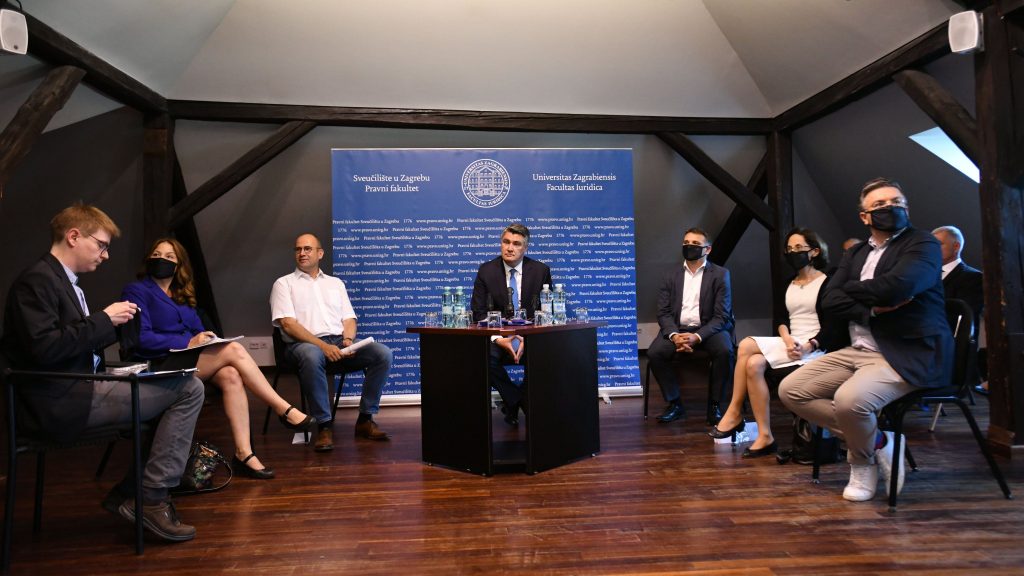 The President of the Republic of Croatia Zoran Milanović participated in a forum entitled "Human Rights in the Coronavirus Crisis" held at the Faculty of Law of Zagreb. He stated that intruding on the intimate area of human freedoms required a decision of Parliament, which he would have let it have, had he been the Prime Minister during the crisis. He added that in this crisis and "plague" we are not talking about human rights but about fundamental civil liberties.
"My right to breathe, to sneeze, to walk, to move – that is my human freedom. In order to venture into that deep intimate area, it is necessary to have a decision of the representative body," Milanović said.
In his presentation, he referred to Articles 16 and 17 of the Constitution, and said that the coronavirus situation had met the conditions for declaring a state of emergency. "Article 17 is no joke. It refers to a state of emergency, imminent danger of war or a natural disaster. It doesn't matter if this virus, and a virus is a natural fact and attacks a living organism, originated as a fact of zoonosis or was released by the Chinese or escaped from a laboratory, it makes no difference. That is a serious matter. It puts lives in danger. If that doesn't meet the conditions (for declaring a state of emergency), nothing does," Milanović said.
Everything we watched for a year and a half was surreal, he added. He praised the fact that the vaccine was produced so quickly, adding that everything else was wrong. Had the coronavirus crisis occurred during his term as Prime Minister, he would not have had this kind of response team, but would have let Parliament vote in the relevant decisions.
He reminded that more than one hundred Members of Parliament supported amendments to the Law on Civil Protection System, and feels that the same number would have supported the Government had it referred to Article 17 of the Constitution. He feels that the Government didn't do so "on the one hand because of arrogance, on the other because of fear of the voters".
"I would absolutely ask for Parliament's support. The public's confidence would be greater. People wouldn't grumble and all of this wouldn't look like travesty, and this looks like travesty, and in my opinion, this is the greatest loss", President Milanović said.