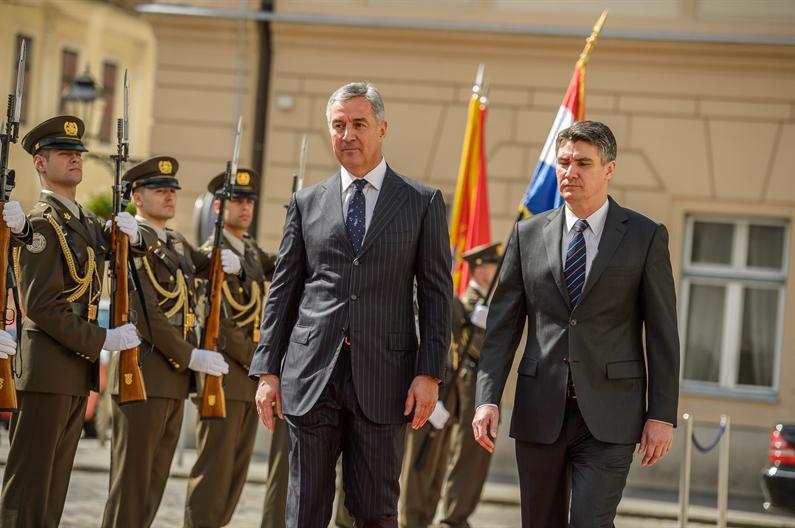 By Adnan Prekic – Podgorica
Montenegro and Croatia did not reach an agreement regarding the border dispute of the Prevlaka peninsula. The two countries, have not found a common solution and they plan to solve the issue of demarcation by means of the international arbitration. The international arbitration on  the Prevlaka issue was announced the by the Croatian Prime Minister Zoran Milanovic, who hosted the President of Montenegro Milo Djukanovic in Zagreb. Montenegrin Prime Minister met in Zagreb with the President of the state Ivo Josipovic. Zagreb has once again highlighted the strong support from Croatia towards the European and Euro-Atlantic path of Montenegro.
Croatian Prime Minister Zoran Milanovic said that the issue of the border with Montenegro of Prevlaka peninsula will be resolved by international arbitration. Milanovic at a joint press conference with Montenegrin Prime Minister Milo Djukanovic, who is on an official visit to Zagreb,  said that the arbitration does not constitute a war, but a civilized way of resolving the issue of demarcation. The issue of demarcation will not be resolved tomorrow, nor next year,  it will probably take years. Montenegrin Prime Minister Milo Djukanovic said that this distinction is not considered as a question that is open and what would burden relations between Montenegro and Croatia. It would be highly irresponsible to block development issues because of political issues, said the prime minister Djukanovic.
Commenting on Montenegro's intention to become a NATO member, Milanovic said that such a policy is supported by a relatively small number of people, compared to the previous wave of enlargement. "In Montenegro this is not something that could easily be changed. In Croatia this support was always significantly higher, above 50 percent", said Milanovic.
Djukanovic during his official visit to Croatia met with the President Ivo Josipovic. Josipovic confirmed Croatia strong support for the European and Euro-Atlantic path of Montenegro and offered expert assistance in further negotiations. Djukanovic during his visit to Zagreb said that Montenegro and Croatia have a very high quality political dialogue at all levels.
In addition to the assessment that integration into the European Union and NATO is a guarantee of stability in the region, Djukanovic said that the support of EU member states is very important for those countries of which the EU and NATO constitute strategic objectives.
The border problem between Montenegro and Croatia dates since 1992. During the breakup of former Yugoslavia, the former JNA military and montenegrin police had occupied this part of Croatia and came close to Dubrovnik. Later there was a withdrawal and Prevlaka was placed under the control of the United Nations. The Interim Agreement was signed in 2002 and a disputed detail was the demarcation of borders on the sea. Due to the specific geographical location of Prevlaka, free maritime entrance to the Bay of Kotor in Montenegro is closed.