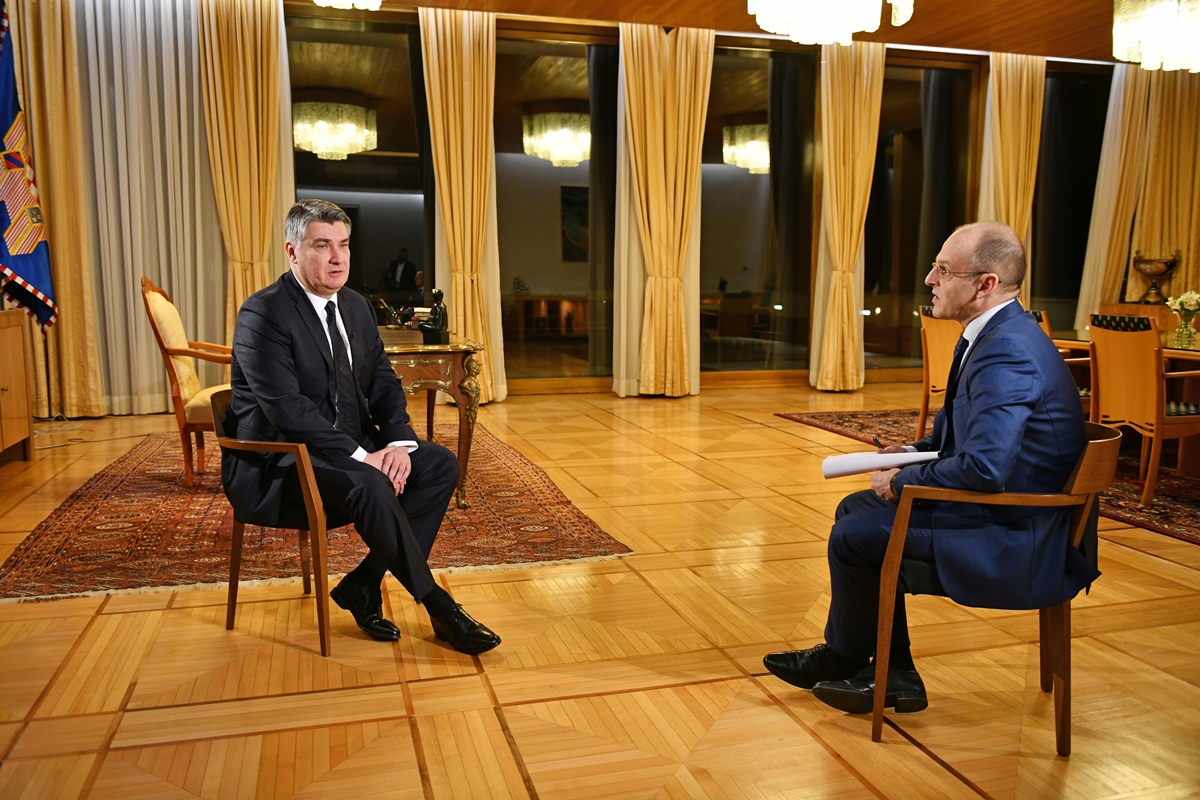 Croatian President Zoran Milanović said in an interview with Nova TV on Thursday evening that he will not be endorsing any of the three candidates running for President of the Supreme Court and he would reveal the name of his candidate "shortly."
"I will not accept any of those persons. It's nothing personal. This is a serious deviation in constitutional practice and custom," Milanović said in an exclusive interview marking his first year in office.
"I have been thinking about this for a while, talking about it and trying to keep it discreet. I want to come out in public with my proposal in good time, proposing a person who meets my criteria and who is acceptable to both the ruling majority and the opposition," the president said.
He stressed that he would discuss the matter with the prime minister and the leader of the opposition Social Democratic Party, "and possibly with someone else so that I do not move forward with a candidate who is a thorn in someone's side; instead we will try and reach a compromise."
Asked when the public would learn the name of his candidate, Milanović said it would be "in due course". He explained he did not want it to be like four years ago, "when the incumbent Supreme Court president was chosen at the last minute because the president (Kolinda Grabar-Kitarović) had her own candidate whom (Prime Minister) Plenković did not accept." He added that he wants the person he opts for to have been in the public eye for a while and that it would be good if that person was not a Supreme Court judge.
Speaking about the Russian-made Sputnik V vaccine against COVID-19, Milanović said Croatia should look after its own interests and the government should procure this vaccine because it was its "fundamental duty and loyalty to its people."
Commenting on the appointment of Metropolitan Porfirije of Zagreb and Ljubljana as the new patriarch of the Serbian Orthodox Church (SPC), Milanović described Porfirije as a high dignitary of the SPC "who is above the standard of those before him."
"He will come under great pressure because the SPC is part of the Serbian state, while the Catholic Church in Croatia is not part of the Croatian state," Milanović said, adding that the SPC wielded great influence on politics, particularly in Montenegro. "It now has great influence in Montenegro, and not the good kind. We will see. There are a lot of challenges ahead."
Milanović said he could not see how the new SPC leader could serve as a bridge with his Serbian counterpart Aleksandar Vučić. "We are secular statesmen. I am the president of a democratic European country, while Vučić is the president of a country with a different political system and a different approach to democracy," he added.
On the subject of local elections in May, Milanović said he would not vote because he wanted to be consistent. "I should be consistent here. I did not vote (in the parliamentary election) because I strongly believe that in the present scheme of things the President of the Republic should not vote and provoke questions as to whom he voted for. The President should be exempt from that. You will not see me in the polling station."
Asked about his presidency, Milanović said that being President "is not a job, but a calling; it's a lifestyle." Asked what he will be remembered for, he said: "You will remember the year, not me, for all the wrong reasons." He added that "there were certainly some good and some not so good things, and some things had possibly been too impulsive."
As for his relationship with Prime Minister Plenković, Milanović explained it was one that "in all sensitive and difficult matters he has been sympathetic and supportive. I did not analyse too much, I did not criticise, nor did I follow every move made by the government and comment on each of its tactical measures because that would be unfair."
He said he was against the state of emergency in the country imposed by "a group of unknown and unelected people who have been formally deciding about our fundamental human rights and freedoms for a year now."
Asked about his Facebook comments on female victims of sexual violence, which were seen by some as downplaying their plight, Milanović said he was elected by Croatian citizens, both men and women, and that he treated women "gender neutrally, as conscious autonomous beings fighting for their rights." /ibna