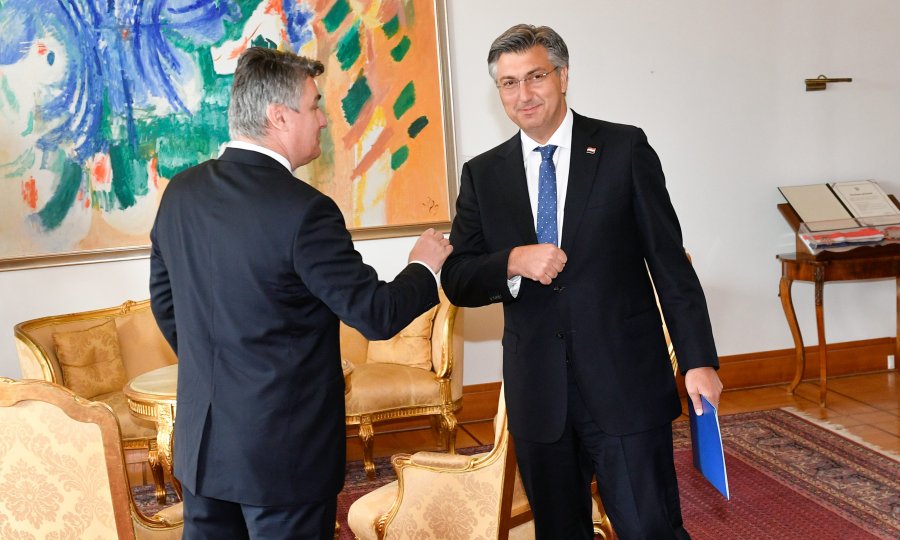 Instead of cooperating and assuring their citizens that they are governed by leaders who can provide for them even during the coronavirus crisis, Croatian President and Prime Minister, Zoran Milanović and Andrej Plenković respectively, are increasingly showing intolerance by consuming themselves in publicly firing attacks at each other.
Despite holding different topoi at the political spectrum, their public quarrels extend beyond the usual models of diplomatic and political behavior. Calling each other by various derogatory names, the only thing they do successfully is showing the nation that there is practically no unity in governing the state.
The last in a series of disagreements between the president and the prime minister concerned Croatia's participation in the Three Seas initiative. Yesterday's meeting was chaired by Estonia, with Plenković representing the Croatian side instead of Milanović.
During the summit, Plenković recalled that Croatia is a co-founder of the Initiative, emphasizing the importance of strengthening cooperation between the countries in the Adriatic, Baltic and Black Seas in order to accelerate economic recovery and support development projects in transport, energy and digitalization.
Croatia has joined the Initiative's investment fund, in which it will invest up to 20m euros through the Croatian Bank for Reconstruction and Development.
This figure particularly bothered Milanović, who said that "Croatia should not invest a single penny" in the Initiative. Milanović believes this initiative to be "unnecessary for Croatia, and potentially harmful".
"I am against Croatia spending even a penny for that initiative as long as the how, what and when of it remains unclear", Milanović told reporters.
He adds that he does not see any benefit from the Initiative which "irritates Germany and damages Croatia's relations with Moscow", considering that it is a project instigated by the USA to sell as much liquefied natural gas as possible.
The Government considers Croatia's participation in the Initiative to be not only productive, but also desirable. The initiative embodies a Croatian-Polish project launched in 2016, with the aim of strengthening trade, infrastructure, energy and political cooperation in the area between the Adriatic, Baltic and Black Seas. The project connects 12 EU member states: Austria, Bulgaria, Croatia, the Czech Republic, Estonia, Hungary, Latvia, Lithuania, Poland, Romania, Slovakia and Slovenia.
It is especially important for Croatia due to the construction of an LNG terminal on island Krk, which will be connected to the terminal already built in Poland through a gas pipeline network. /ibna