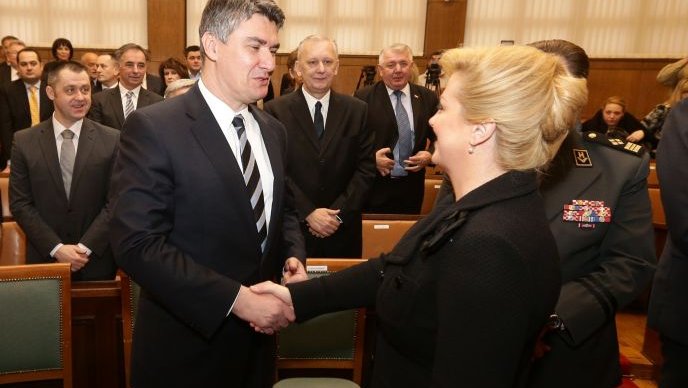 Zagreb, March 31, 2015/ Independent Balkan News Agency
By Marija Avramovic
On Tuesday was marked the sixth anniversary of the Republic of Croatia membership in NATO which was also the first occasion, after the presidential election, of the joint public appearance of Prime Minister Zoran Milanovic and state President Kolinda Grabar Kitarovic.
Both the president and prime minister agreed that the common values shared by NATO members such as peace and security, respect for human rights and democracy could not be taken for granted.
Milanovic said that NATO functioned as a club of countries that have some things in common and that have had their ups and downs when it came to democracy, human rights, the right to be different -everything that Croatia now nurtures.
"We must never forget that this is something which was hard fought for and that it can be lost in the blink of an eye. And that is why it is important what kind of values we propagate, how we raise our children", Milanovic noted.
Croatian President and former Assistant to the Secretary General of NATO Grabar Kitarovic stressed in  her speech that peace and stability were achieved not only with weapons.
"Peace and stability cannot be achieved only with weapons, only with weapons. They can also be achieved with dedicated work, but also with hearts", she underlined, adding that the members of the Croatian contingent in NATO operations have it in them.
Speaking about the common values shared by NATO members-freedom, democracy, human rights to protect the sovereignty, territorial integrity and political independence of each state she said that it was nowadays especially important because the world is faced with new threats that appear both in Mediterranean basin and in eastern Europe, but also in the Middle East, central and south Asia.
At a ceremony which took place in the Parliament, Vice President of the Parliament Milorad Batinić and head of the delegation of the Croatian Parliament in the NATO Parliamentary Assembly Boris Blažeković spoke about the role of the alliance, while the ceremony was also attended by Deputy Prime Minister and Minister of Foreign and European Affairs Vesna Pusic.