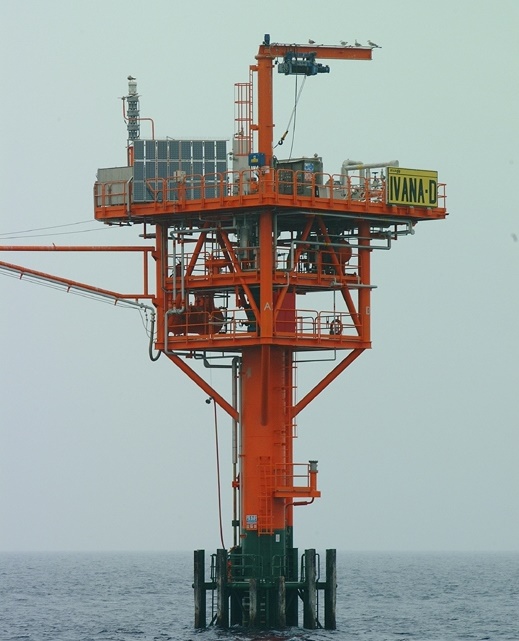 "Improvement of weather conditions enabled the departure to the location of the exploitation offshore facility Ivana D by boat, as well as the engagement of an automatic robotic submarine. It was confirmed that the facility is entirely on the seabed", Croatian company INA said on Thursday night.
After the loss of process communication and navigation system on December 5 due to strong winds and large waves in the northern Adriatic, and then visual contact with the uninhabited exploitation offshore facility of Ivan D, INA's experts, together with representatives of competent institutions – energy inspector for oil mining from the State Inspectorate, the inspector of navigation safety of the Ministry of the Sea, Transport and Infrastructure and the representative of the Coordination for Safety in Offshore Exploration and Exploitation of Hydrocarbons – performed an inspection of the sea surface and seabed at the location.
"An on-site inspection determined that there was damage, i.e. cracks at the joints of the platform with the established piles, while the pipes leading from the well to the surface part of the platform did not crack but bent and is at the bottom together with the surface part of the platform. No leak was noticed, which confirms that all security systems have performed their function," INA states.
Maintenance, the Company said in a statement, could be ruled out as the cause of this event, and further investigation will determine the exact reasons for the platform's crackdown. The platform was regularly maintained and under inspection. "In October this year, the last coordinated inspection of the offshore exploitation facility of Ivan D was performed, and the facility operated with a valid Certificate of Safety for Work. The inspection of the underwater part of Ivana D was made in 2018, in the presence of inspectors from the Croatian Register of Shipping. Also, the facility was last inspected by INA's crew on December 1, 2020, which is recorded in the daily report", the statement said.
Ivana D differs from other INA exploitation offshore facilities in the northern Adriatic in the way it is attached to the seabed. The investigation into the incident continues, and only after collecting all the relevant data will it be possible to make a decision on the continuation of production or the permanent closure of the well on the site. At the same time, INA will prepare a rehabilitation plan at the location of Ivana D.
As mentioned earlier, the event did not affect the environment. No gas leak was noticed, and the gas pipeline that shipped gas from the wells is in good condition, stable and under pressure. The company reminds that due to the events on Ivana D, the Emergency Shut Down System (ESD) was automatically activated, and by closing the deep safety valves, the gas wells were brought to a safe condition. Security of supply is not endangered and the production at all other offshore exploitation facilities is going according to plan./ibna