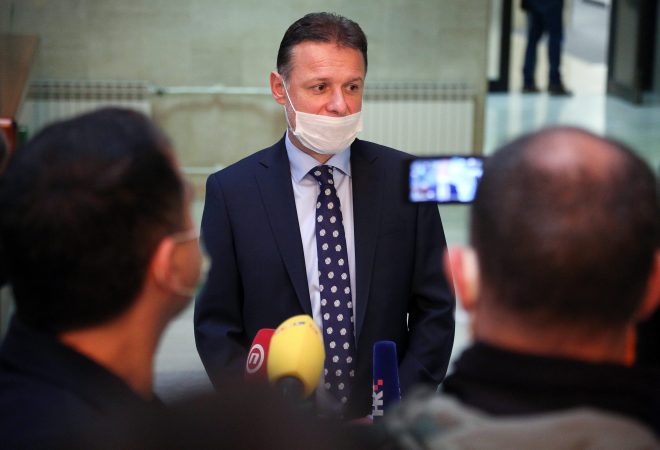 Parliament Speaker Gordan Jandroković called on Thursday for societal tensions to be defused.
Speaking to the press, he said the situation in society was demanding and complex.
"The situation did not use to be that difficult. We are seeing an increase in the number of coronavirus outbreaks, in the death toll, and our absolute priority should be to try to reduce those numbers together", Jandrokovic said.
"Let's be responsible, solidary, sensible, let's take into account each other, our medical staff who are fighting tough battles".
He stressed that arguments prior to Covid-19 and the crisis that it caused were much more different than now, when "any word can ignite the flame".
"The end result of hate speech, of unacceptable messages, was the shooting in St. Mark's Square", Jandroković said referring to a recent attack at the government's HQ.
"The path from verbal to physical violence is not that long, and this situation is proof of that. This boy (the gunman) didn't come here of his own accord, he was verbally prepared to do that. Let's not add fuel to the flames, let's calm down, let's focus on helping citizens".
Jandroković dismissed claims that only the right was to blame for the radicalisation of society, and wondered the extent to which the previous Social Democratic Party-led government was responsible for increasing radicalisation with the adoption of "Lex Perković".
"It takes two to quarrel, they are not innocents who have not added fuel to the flames", he said, recalling statements by SDP MP Nenad Stazić about Bleiburg and by Croatian Peasant Party leader Kreso Beljak regarding emigrants.
Jandroković said he had not heard from President Zoran Milanović even one constructive proposal concerning coronavirus, the economy or security. "Nothing that has come from the president will help defuse tensions and seek solutions".
"The prime minister should be given room to deal with coronavirus, the economy and security in unprecedently demanding times", he added. /ibna