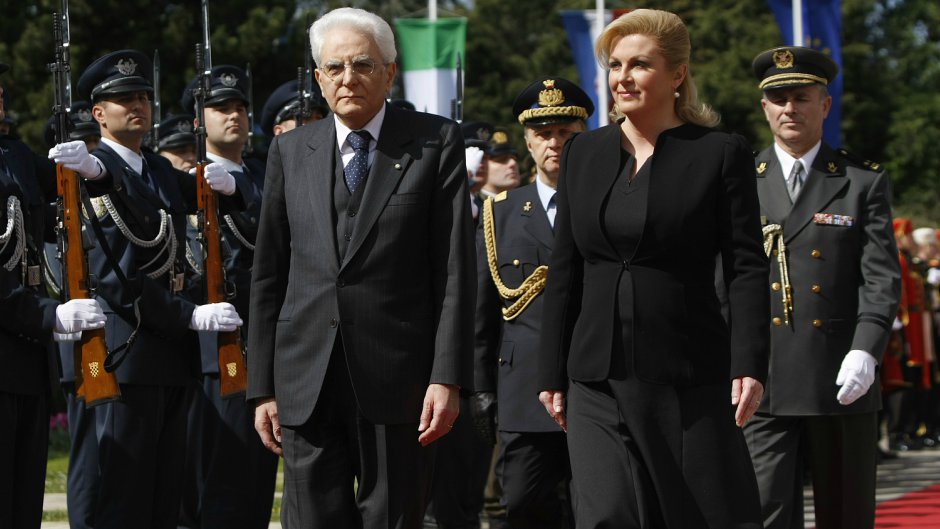 Zagreb, April 23, 2015/ Independent Balkan News Agency
By Marija Avramovic
Italian President Sergio Mattarella is on an official visit to Croatia on Thursday, where he was officially greeted upon arrival by Croatia's president Kolinda Grabar-Kitarovic, followed by a meeting between the two presidents and then a bilateral meetings of the official delegations of the two countries.
After the meeting they stated that they discussed the future of European Union and jointly concluded that the EU should continue to expand.
Also, they found that the problem of illegal immigrants was not only a problem of Italy and that other countries should help solve that particular problem.
"We talked about the problem of immigrants and ways to help Italy, which is the first to be affected, as well on ways to eliminate the causes for which people are leaving North Africa", Grabar Kitarovic said in a joint statement after the meeting.
President Mattarella also met with Prime Minister Zoran Milanovic in Zagreb. The two officials discussed bilateral relations between Croatia and Italy and agreed that relations between the two countries are excellent, but that there was room for even better economic cooperation.
The fact that Croatia intends to involve in the mission of rescuing migrants in the Mediterranean was also confirmed by Prime Minister Milanovic.
It was announced that Croatia in May will send a vessel for Italy to use due to the frequent tragedies in the Mediterranean.
The Prime Minister and the President of Italy discussed the situation in South Eastern Europe, agreeing on the need to continue the process of EU enlargement.
During his yesterday's visit to Slovenia, Mattarella pushed for continued expansion of the EU to the Western Balkans, stopping immigration crisis before the European coasts and for stronger EU and international community action in Libya.