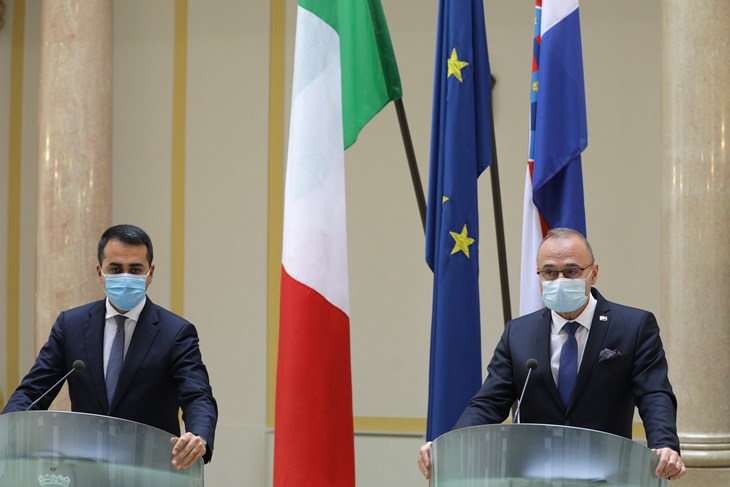 A bilateral meeting was held between Croatian foreign ministers Gordan Grlić Radman and his Italian counterpart Luigi Di Maio on Monday, focusing on the Adriatic Sea. The two ministers, in a European spirit and aware of the need for its protection and sustainable management, discussed the issue of demarcating Exclusive Economic Zones on both sides of the Adriatic. During the talks, the two ministers confirmed their readiness to kick off consultations on EEZ delimitation.
Back in 2003, Croatia declared the Protected Ecological-Fishing Zone of the Republic of Croatia (ZERP) on the basis of which, together with the Continental Shelf (seabed) of the Republic of Croatia, it enjoys all contents of the Exclusive Economic Zone (except the right to build artificial islands and produce energy using the sea, sea currents and winds), in accordance with the UN Convention on the Law of the Sea. Subsequent decisions from 2004, 2006 and 2008 stipulated that the ZERP would not apply to the Member States of the European Union until a common understanding in the EU spirit was reached.
After Croatia joined the EU, the ZERP along with all exclusive economic, fishing and ecological zones of other Member-States, were merged in the "EU waters", where the Common Fisheries Policy applies and Member-States cooperate in protecting the maritime environment.
Long-term cooperation with Italy in the implementation of the common fisheries policy, as well as cooperation in the field of environmental protection at sea, has resulted in an agreement on the harmonized demarcation of Exclusive Economic Zones in the Adriatic. Croatia believes that this joint action with Italy in the Adriatic of declaring exclusive economic zones on both sides of the Adriatic would consolidate a strong foundation for even firmer cooperation and full protection of the Adriatic, in line with the United Nations Convention on the Law of the Sea (UNCLOS) and the EU legislation.
Croatia adjoins Italy in the Adriatic, a semi-enclosed sea with a delicate ecosystem. It is therefore necessary to cooperate in responding to the challenges of protecting the Adriatic and its natural resources, as well as to ensure a sustainable management of this blue economy. /ibna