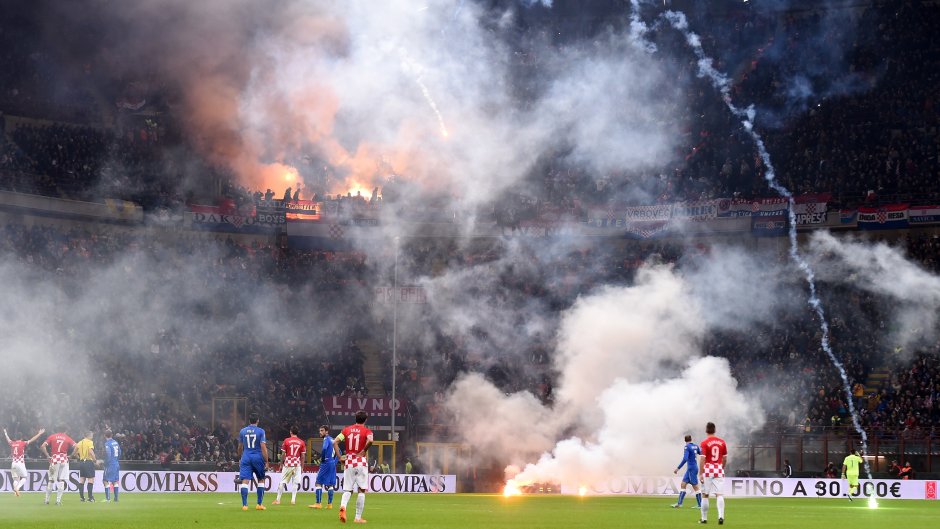 By Marija Avramovic – Zagreb
Italy was unable to register its first win against Croatia since last night in the San Siro for the fourth round of Group H qualifying stage for the European Championship the match ended in a draw 1:1, which allows Croatia to remain first in the table.
Antonio Candreva scored for Italy just after 11 minutes, but Croatia was quick to react when the Italian goalkeeper, Gianluigi Buffon, flubbed a shot from Ivan Perisic four minutes later.
Unfortunately, the great game of the Blazers was overshadowed by the rampage of Croatian fans who threw big flares and caused a break in the match after 71 minutes, resulting in the match being discontinued for around 12 minutes the match restarted again.
Croatia are ahead of Italy on goal difference with both teams level at 10 points from four matches, and facing possible sanctions once UEFA has examined all the necessary reports.
Croatia coach, Niko Kovac, said: "It's not the first time and it's not accidental. I hope the bodies in charge will find a way to solve the problem because it paints a bad picture for Croatia. I was ashamed and I apologised to the Italians after the game. There were families with children up there".
UEFA look set to launch an investigation into the crowd to find those responsible in Italy's Euro 2016 Group H qualifier against Croatia.
Such frenzy act of savagery by Croatian fans might be interpreted as a protest against the Croatian football federation, but this way of showing discontent at the end of the day only results in football and the national team suffering the consequences.