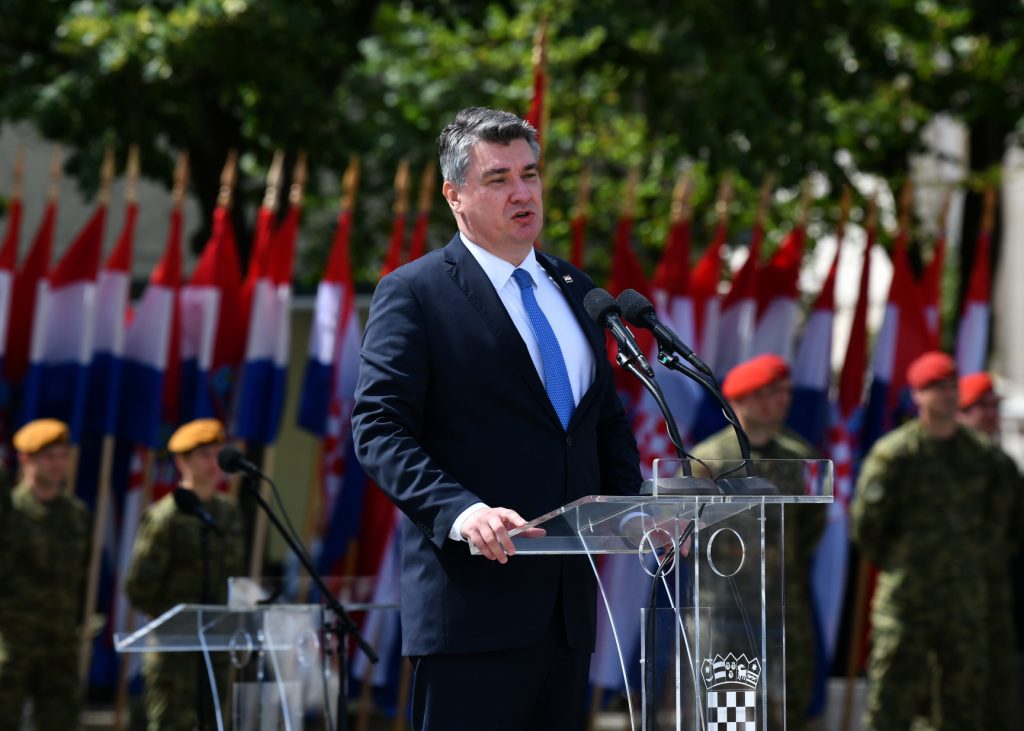 Croatian President Zoran Milanović said from Knin on Wednesday that 25 years after "Operation Storm", Croatia is not the same society it was then, stressing that unity requires talking about things that bring people closer together but also divide them.
"It is really an honour for me, and this is not an empty phrase, to speak on the occasion of the 25th anniversary of Croatia's liberation. 25 years is a very long time in the formation and life of a human being. In a span of 25 years relations between states and relations in the world change. We have come a long way and we are not the same society we were 25 years ago", Milanović said in his address on the occasion of Victory Day, Homeland Thanksgiving Day and War Veterans Day.
Milanović went on to say that in democracy unity is not always fully possible but that it is necessary to talk together about things that bring us closer and that divide us, things that we view differently.
"The views of someone from a big city, someone from a small city, of a Croat or a Serb are not necessarily always the same. What is important is to talk, raise issues and discuss them", the president said.
Speaking about the stages of Croatia's path to victory and relations between Croats and Serbs, Milanović cited Winston Churchill, British Prime Minister during World War II, who said "In war: resolution, in defeat: defiance, in victory: magnanimity, in peace: goodwill."
Recalling that "the war in Croatia was imposed on the country", Milanović noted that Croatia's first president, Franjo Tudjman, conducted the difficult task of warfare as well as that the job done then was something Croatia could learn from today.
"That victory… was not accidental. It was a result of the work, planning, concentration and intelligence of hundreds of thousands of people. All of us who did not participate in it should be grateful to them," he stressed.
The war started with a defeat and with the great suffering or displaced people, he added. Resistance at the beginning seemed futile but brave Croatian soldiers and their commanders won a victory, he said.
"In that victory, we should have been more magnanimous and better organised, that is something the prime minister, too, has talked about. Fortunately, we never sank into an abyss of moral catastrophe. There were mistakes, there were also crimes, and they cost us later," Milanović said, adding that this was a big lesson.
Croatia later rectified that mistake, but a burden remains, he said.
"That is why I especially appreciate the presence of Deputy Prime Minister Boris Milosevic here today. This is a celebration, not a commemoration. We rejoice here and celebrate our successes. To come here and join Croats in celebrating a date, that is not an equation, that is the architecture of a heart and a deeply emotional issue and not a small thing," he stressed.
Speaking of relations between Croatia and Serbia, he said that they had been complicated for more than 100 years.
"There were conflicts, bloodshed, wars, civil wars, aggression and after that, we seem to be unable to enter a phase of normal relations in which respect and constructive behaviour will prevail. It is as if we are still burdened by things that are the consequence of the 1990s aggression," he said, adding that he was aware that he was speaking as a Croat.
He added that those relations must be better and that he would do all he can and dare to improve them as well as that it was up to the other side to try to do the same as well./ibna