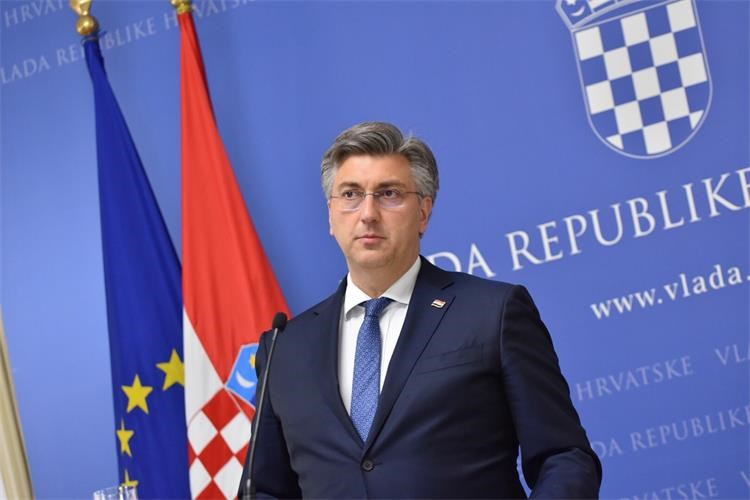 Croatian Prime Minister Andrej Plenković said on Wednesday that Croatia today was certainly a better country compared to 2016, when his government took office, adding that "We are going after a vote of confidence for the second half of our term".
Speaking on the Croatian National Radio, he said that in the first half of his term since 2016, the government had worked on four promises to citizens – political stability, legal certainty, economic growth and social solidarity.
Plenković reiterated that under his governance wages had increased by HRK 1,150 in average; pensions had also increased, while Croatia had recorded a sound economic growth and a budget surplus for three years; the public debt was reduced and that the country had come out of the excessive budgetary deficit procedure.
On Wednesday, Prime Minister Andrej Plenković commented on the Wind Park Scandal, saying any corrupt behaviour must be punished, while resolutely dismissing claims that he would influence the State Prosecutor's Office (DORH).
"In the 2016 campaign, it was him (Zoran Milanović) who clearly insinuated that he would influence the DORH. Unlike him, intervening in that body is the furthest thing from my mind", he said on National Radio, commenting on President Milanović's statement that Plenković's call on the authorities to investigate the Rijeka European Capital of Culture Project conveyed a dangerous message.
"As far as me and the HDZ are concerned, no one is untouchable. Regarding the fact that there are other criminal reports as well, I just said the same rules should apply to all. That's not exerting pressure".
Speaking about the Wind Park corruption case, on the occasion of which former HDZ state secretary Josipa Rimac was arrested last week, Plenković reiterated that any behaviour which indicated -and especially if there was evidence of- corruption, must and would be punished.
He said the ruling HDZ party would impose some sanctions and that he was convinced that those who "practically represented the interests of third parties" instead of doing what they had been appointed for, would be ousted.
"That's unacceptable", he said, drawing lines between the government, the HDZ and himself from the scandal. "It's not my habit to immediately understand that someone would do something like that, even though they were appointed for something else".
Plenković once again stated it was not good that surveillance had been breached and that someone told the person in question that they were being monitored. "Who could have said that?" he asked, adding that he expected the DORH and the police to provide some answers.
"I don't know how the DORH can be so sure that it was not their fault. How did they investigate that?" he wondered, adding that this was not the first time during his term that something like this had happened.
"You had the case in which someone fabricated texts between the prime minister and his deputy, and there were no sanctions", he said, asking, "What has been done about that?". /ibna