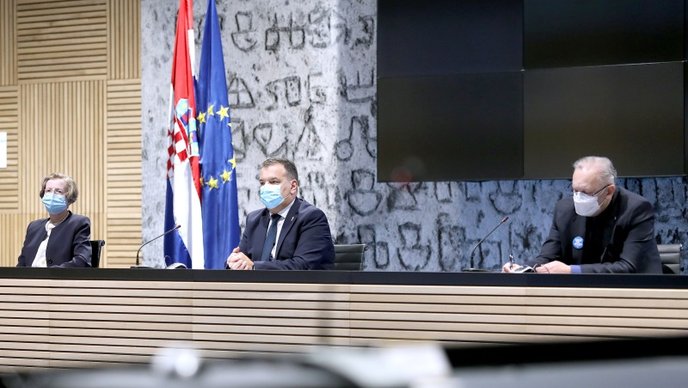 On Wednesday, the National Civil Protection Headquarters of Croatia adopted a new decision on state-border crossing which restricts non-essential arrivals to Croatia, especially from countries where a new strain of coronavirus is spreading, such as Great Britain and South Africa.
The Croatian Institute of Public Health will determine the list of those countries and special epidemiological measures will be applied to passengers from those countries, Chief of Staff Davor Božinović pointed out at the press conference, explaining that the decision had nothing to do with citizenship, but with the region from which travelers arrived.
"Passengers from those countries must show a negative PCR test of 48 hours upon entry to Croatia and will be placed in isolation for 14 days. At the moment, Great Britain and the Republic of South Africa are on that list," Božinović said.
He added that their quarantine period could be reduced to seven days if they underwent PCR testing in authorized institutions and the test came back negative.
Persons from third countries travelling for urgent personal reasons – funerals, medical treatment, etc., would have their stay in Croatia limited to a maximum of 12 hours.
"Special rules have been introduced for people who come to deliver aid to the earthquake-stricken area. They will be able to enter Croatia with the prior consent of the headquarters, in other words without a test," Božinović continued.
Health Minister Vili Beroš said that today, for the first time since November 22 last year, Croatia recorded less than 2,000 hospitalizations (1993), while the daily death toll remained below 30.
"We must avoid complacency; however, we can conclude that our balanced measures are yielding results and this is the optimal winning formula in Croatia when it comes to fighting the epidemic," Beroš said.
The director of the Clinic for Infectious Diseases "Dr. Fran Mihaljević", Alemka Markotić, once again called on patients with chronic conditions to contact their doctor as soon as possible in case of Covid-19 symptoms so that treatment could be administered in a timely manner.
People who experience more severe symptoms also find it harder to recover in the post-COVID period, according to a study published on January 8 in the Lancet magazine, Markotić said. About 1,733 people who contracted Covid-19 were monitored for six months, marking the longest follow-up period and the largest number of respondents. It was found that 76 percent of the monitored patients had at least one of the symptoms affecting their quality of life and health.
The most common, he says, was severe fatigue, which was observed in 63% of the sample; 26% were experiencing sleep problems, and 23% were facing mental health issues such as depression and anxiety. /ibna