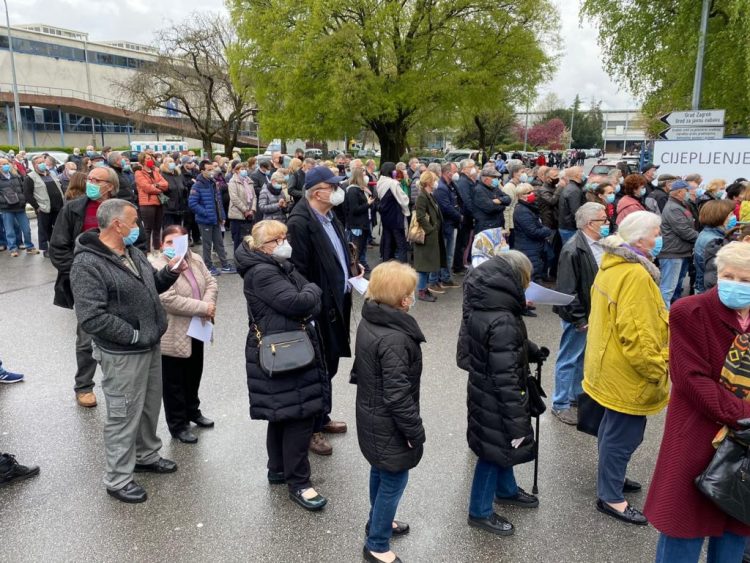 The Croatian capital of Zagreb will most probably get another vaccination point as large crowds of elderly citizens "occupied" the Zagreb Fair premises. Citizens and political parties fired shots at the government for the poor organization of mass vaccinations, which resulted in hour-long queues among the elderly.
Another vaccination point could be set up in a central city location in an attempt to somewhat decompress the current situation facing the vaccination point the Zagreb Fair.
The Croatian vaccination rollout has suffered some bumps along the way over recent months, with delivery and contractual issues aplenty. Some citizens refuse to receive the AstraZeneca vaccine due to numerous reports of worrying side effects and doubts surrounding the vaccine for people over a certain age. Things have begun to improve lately, and a second Zagreb vaccination point might work to ease the pressure and better control the flow of people coming to be immunised.
As Poslovni Dnevnik reports, following problems in reaching the vaccination target, yesterday more than 4,500 residents of the Croatian capital received a dose of the Pfizer vaccine. Medical and other staff still have their hands full today, warning people to keep their distance and adhere to the epidemiological measures as they wait to receive their vaccines.
Today, Zvonimir Šostar, director of the Dr Andrija Štampar Institute in Zagreb, will hold talks with the Minister of Health Vili Beroš on the opening of another mass vaccination point in the eastern part of Zagreb, as he previously announced on HRT.
If all goes according to plan, next week roughly 100,000 doses of the Pfizer vaccine are set to arrive in Croatia, followed by 175,000 due to enter the country every week of May, with 201,240 doses due in the last week.
A total of 809,640 doses or 202,410 per week will arrive in June alone. For these large quantities, which do not include the promised amount of 524,000 doses of AstraZeneca and the announced 100,000 doses of Johnson & Johnson, additional mass vaccination points are expected to be set up. /ibna