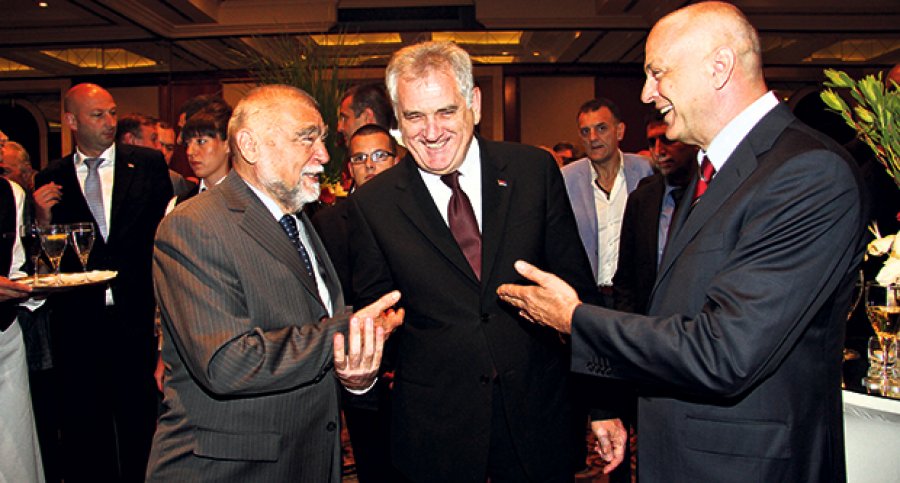 By Milos Mitrovic – Belgrade
Serbian president Tomislav Nikolic and Croatian former president Stjepan Mesic drank a toast to Croatian entry to European Union at the reception in the Croatian Embassy in Belgrade on Tuesday evening. This was the first time that Serbian president attended the reception in Croatian embassy since the diplomatic relations between the two countries had been established in 1996.
The reception was organised on the occasion of the National day and Armed Forces day of the Republic of Croatia; the reception was also the occasion to celebrate Croatian EU entry on July 1st. The attendance of president Nikolic at the reception was of great symbolic importance, given the fact that he has been Serbian volunteer during the war in Croatia in the 90s. From 1991 to 2008, Nikolic has been deputy president of the ultranationalist Serbian Radical Party (SRS) which took part in Croatian war by recruiting paramilitary volunteers.
Croatian ambassador to Serbia Zeljko Kupresak said that Croatia strongly supports Serbian path towards the EU. Kupresak reiterated that Croatia provides an unconditional and direct support the stance that Serbia should be granted the EU accession talks start date. Croatian foreign minister Vesna Pusic confirmed this position during her visit to Belgrade last week.
Kupresak expressed his hope that Croatia and Serbia would be partners in the EU.
''Serbia deserves to get the date for the start of the accession talks with the EU'', president Nikolic said earlier on Tuesday. On Friday, EU leaders are to decide whether the date would be granted later this year. Nikolic expressed his expectation that ''Germany and EU Council will give a chance to Serbia and Serbian people''.
''I am convinced both that the justice will win on June 28th and that the EU will give historic chance to Serbia and to our people to live in dignity in their European family. We don`t want to stay aside anymore… We are willing to take our destiny in our hands''. Nikolic stressed.
''They say that everything (granting the date) is up to Germany now. I assume that it is difficult to take such responsibility. It was not easy to us to fulfil the demands in the most difficult position. Nevertheless, we do expect both that Germany will confirm it's unequivocal commitment to the reconciliation, peace and stability in this region and that it will appreciate the efforts of others towards the same aim", Nikolic said.
The fresh EU Council draft regarding the negotiations with Serbia suggests that the talks should start not before the January 2014, TV B92 revealed. The draft represents a compromise between the Germany and the other EU member states. Berlin insists on ''permanent, visible and sustainable'' progress with regard to the normalization of the relations between Serbia and Kosovo.