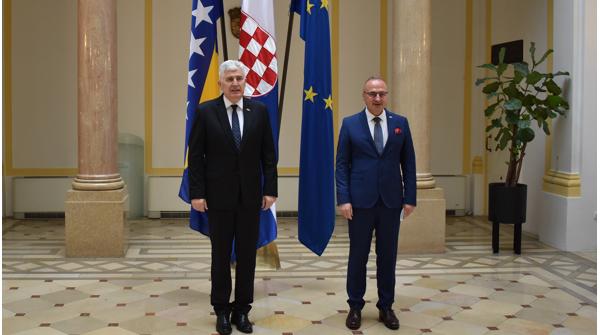 Croatian Minister of Foreign and European Affairs Gordan Grlić Radman met on Thursday the Vice-Chairman of Bosnia and Herzegovina's House of Peoples, Dragan Čović.
The main topics n the meeting were reforms in BiH, including amendments to the election law, the current political situation in the country, joint fight against COVID-19 and intensifying the post-pandemic economic cooperation.
The two officials agreed that reforming the election law was crucial for achieving equality and non-discrimination of the three constituent peoples, notably Croats, thus taking BiH further along the road towards EU membership.
"Grlić Radman reiterated the position he presented at the Foreign Affairs Council meeting of 10 May on the importance of the equality of the three constituent peoples, underlining that that concept was crucial for a functioning BiH. He added that it was unacceptable that certain political actors are negating and undermining these fundamental concepts. The minister stressed that the dialogue throughout the BiH political spectrum should be based on complete and unquestionable respect for equality, constituency and legitimacy of representation, which will continue to be pointed out to European and international partners," said Croatian Ministry of Foreign Affairs in the press release.
In addition, Grlić Radman said it was vital to achieving stability and functionality of BiH and that the political dialogue within the country should be based on European values so that Croats could elect their own representatives just like all the other BiH citizens. That would speed up the country's EU journey and place a stronger focus on economic issues.
Grlić Radman and Čović agreed that cooperation in fighting the pandemic was important in order to overcome the health crisis and turn towards social and economic recovery. Discussing the impact of COVID-19 on society, Čović thanked Croatia for donating the vaccine to BiH.