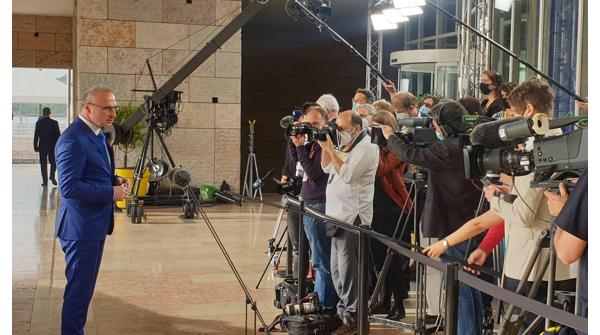 Minister of Foreign and European Affairs Gordan Grlić Radman addressed the media ahead of an informal meeting of EU foreign ministers (Gymnich), outlining the topics on the agenda.
"We will discuss the strengthening of political and economic partnership with Africa. It is in our strategic interest. We want to work with our African partners and help them deal with challenges and utilize opportunities. For Croatia, the issue of migration is important. Here we expect a stronger engagement from our African partners in order to prevent their citizens from leaving on a dangerous journey towards Europe. We will help build capacities for migration management," the minister said.
Grlić Radman said the ministers would also discuss unresolved conflicts in the Eastern Neighbourhood. "Five out of six of our Eastern European neighbours have no control over parts of their territory. These are Ukraine, Georgia, Moldova, Armenia and Azerbaijan. We will discuss how we can help them resolve these conflicts, some of which have been ongoing for decades. I will push for a stronger political engagement. As with the Western Balkans, there is a clear need for a stronger political approach to challenges in the region," said the minister, underlining Croatia's experience with peaceful reintegration and how we can contribute to the EU's efforts.
In addition, Grlić Radman said the ministers would discuss the strengthening of cooperation with the Asian partners in the Pacific Region and the implementation of the Indo-Pacific Strategy adopted in April.
The EU ministers will be joined by Jordan's Foreign Minister Ayman Safadi, with whom they will discuss the situation in the Middle East, notably the prospects of launching the peace process in light of the recent escalation of the conflict between Israelis and Palestinians.
On Wednesday Grlić Radman held talks with Portuguese Foreign Minister Augusto Santos Silva.
Grlić Radman congratulated Santos Silva on the successful Portuguese EU presidency and thanked Portugal for the prompt assistance after the earthquake in Sisak-Moslavina County.
"We agreed that there was room for the advancement of economic cooperation. Before the pandemic, our economic exchange was growing and that is a trend we will try to resume once we overcome these challenges," said Grlić Radman, discussing the prospects of Croatia and Portugal's post-pandemic economic cooperation.
The minister thanked Santos Silva for Portugal's support for Croatia's efforts to join the MED7, OECD, Eurozone and the Schengen Area.
The two ministers underscored the desire for stronger cooperation in tourism. "TAP Air Portugal will restore the direct flights between Lisbon and Zagreb early June," Grlić Radman said, welcoming Portugal's decision to relax rules for the entry of Croatians into Portugal, who are now only required to have a negative PCR test and no longer have to quarantine.
Grlić Radman and Santos Silva also discussed other topical matters, such as the European journey of the Western Balkans, notably Albania and North Macedonia, as well as the state of affairs in the Southern Neighbourhood.