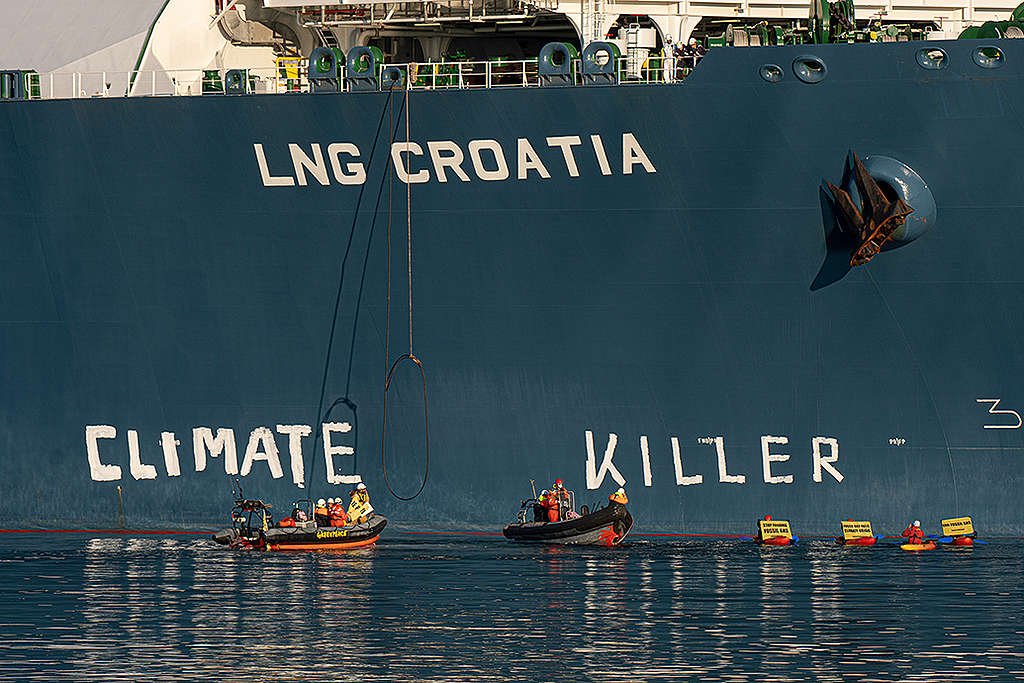 Greenpeace CEE activists held a peaceful protest at the LNG terminal on Krk on Monday, calling on the government to urgently give up fossil fuels and stop all investments in new gas and other fossil infrastructure. Approaching the rubber boats, they wrote "CLIMATE KILLER" on the side of the terminal, to warn that fossil gas is greatly contributing to the climate crisis.
According to Greenpeace Croatia, the protest took place next to the recently opened LNG terminal, a facility that cost 233.6m euros and was almost entirely funded by European and state funds. Instead of seeking a solution to the energy crisis in a larger share of renewable energy sources, the Croatian government plans to further expand the gas infrastructure and is seeking new EU funds for that, activists warn. Ahead of the meeting of European leaders who will discuss the jump in gas and electricity prices in Brussels, Greenpeace points out that fossil gas is not the solution, and that dependence on fossil fuels harms the climate and the economy and households.
"In the midst of the energy crisis caused by the fossil fuel market turmoil, our government is still debating how to further increase its dependence on fossil gas and thus pushing us further towards a climate catastrophe. The fossil gas and oil industry is getting rich by raging energy prices and deepening the climate crisis, and the bill is ultimately being paid by the citizens. The spending of public money on financing new gas, ie fossil infrastructure, must be stopped. All new investments should be focused on renewable sources, energy efficiency and energy storage solutions ", said Petra Andrić, program manager at Greenpeace in Croatia.
Research confirms that the entire process of gas production, storage and transportation is often associated with uncontrolled methane leaks and that this has more detrimental consequences than previously thought. "The fossil fuel industry assures us that fossil gas is a safe solution for the climate. That's a lie! Gas is fueling the climate crisis just like coal and oil. The fossil fuel industry promotes a false image and uses its propaganda to distract and mislead the public, with the clear goal of delaying a green and fair transition. We are here today to expose the industry that deserves the title of "climate killer", said Joanna Flisowska, head of Europe's Greenpeace anti-gas campaign.
In response to the manipulative presentation of fossil gas as clean, safe and natural, Greenpeace and 20 other NGOs recently launched a European Citizens' Initiative (ECI) petition, advocating a new law banning the advertising of fossil fuels and sponsorships in the European Union. The ban on fossil fuel advertising is a concrete move to accelerate the urgently needed energy transition.