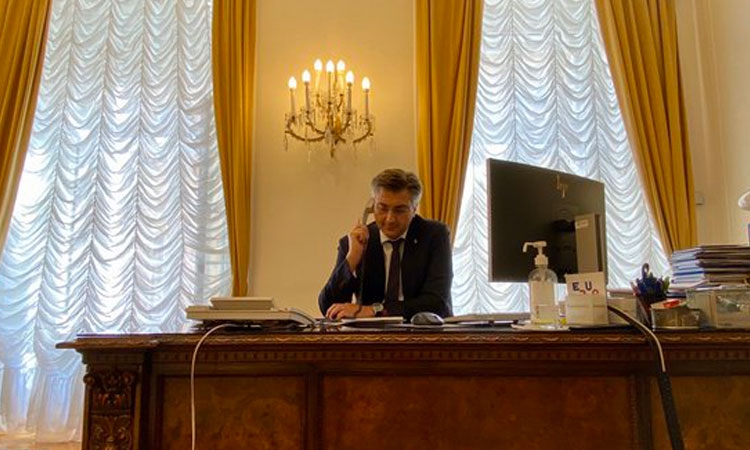 Croatian Prime Minister Andrej Plenković spoke on the phone on Wednesday evening with four European heads of government to discuss solutions for the tourist industry, which makes up a 20 per cent of Croatia's GDP.
Plenković held telephone conversations with German Chancellor Angela Merkel, Austrian Chancellor Sebastian Kurz, Hungarian Prime Minister Viktor Orban and Slovenian Prime Minister Janez Janša, he informed on his Twitter account.
The most important obstacle is the ban on nonessential travel imposed by many countries in an attempt to limit the spread of COVID-19, which has had a big negative affected on the tourism sector.
The EU summit meeting with western Balkan countries, which was to be held in May in Zagreb but was postponed due to the coronavirus epidemic, was also discussed last night. The summit is expected to be held as a virtual event at the end of Croatia's six-month presidency of the Council of the EU in the first half of 2020.
On Thursday afternoon, EU heads of state or government will hold a video conference to discuss a joint response to the economic and social repercussions of the corona crisis.
At a news conference Wednesday night, Plenković said a package of measures on the gradual reactivation of economic and social activities, which would be implemented in three phases, was agreed. In determining the stages, care was taken not to jeopardize the achievements in the fight against COVID-19 while at the same time helping businesspersons.
"The package of measures will be the focal point of the cabinet session on Thursday", Plenković said, recalling that "our health-restrictive measures have achieved results, the epidemic rate is slow and the number of deaths so far is relatively small".
"The way we have dealt with the epidemic, in relation to many countries, can be estimated as very good", he said.
He added that "phase reactivation" begins, which will take place in three phases – from April 27, May 4 and May 11./ibna