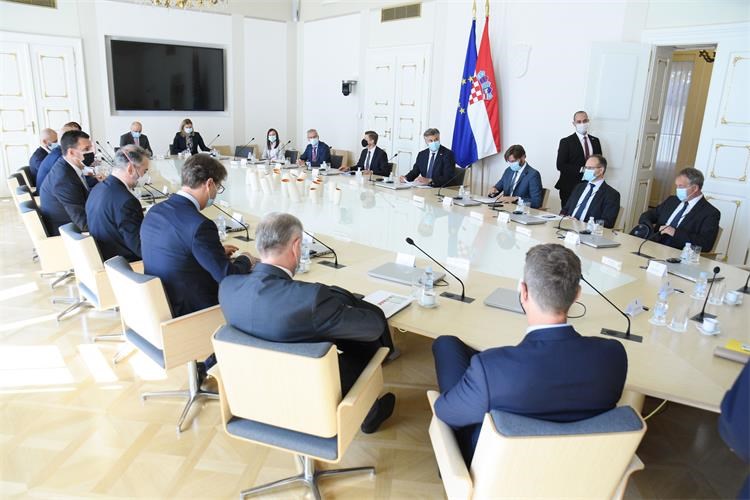 The Prime Minister of Croatia, Andrej Plenković, met today with the presidents of the banks' management boards regarding the issue of overdrafts on the current accounts of citizens in Croatia.
In addition to the Prime Minister, Deputy Prime Minister and Minister of Finance Zdravko Marić and Minister of Economy and Sustainable Development Tomislav Ćorić, as well as the Governor of the Croatian National Bank Boris Vujčić attended the meeting.
In a statement for the media after the meeting, Minister Marić said that the main goal was to find an adequate and satisfactory solution, while the Government's focus is on consumers and their protection, taking into account the issues as a whole.
He said that several very good proposals were crystallized at the meeting, which can help fulfil certain, important principles – on the one hand, the principle of social sensitivity, and on the other hand, the principle of fairness.
Marić added that it is now clearer what led to this situation.
He reminded that since 2010, two institutes of overdrafts on current accounts have been legitimately recognized in the Law on Consumer Lending – allowed and tacit.
However, the problem has arisen since 2018, when tacit overdraft became the predominant form, accounting for almost 95 per cent of all overruns.
"The solutions and proposals that have been put on the table lead us to focus on the segment of allowed overdraft as the one that should be predominant, because in the Law itself it is regulated in much more detail, clearly and transparently," the Minister pointed out.
Whatever solution is chosen, the minister emphasizes, it is important to ensure maximum information, transparency and better understanding, with as little administration as possible.
He pointed out that in no case is the intention to abolish these overruns and thus create pressure on the existence of citizens, nor would the Government support such a proposal as a potential solution.
The director of the Croatian Association of Banks, Zdenko Adrović, said that the representatives of the banks conveyed the experiences of other countries to Prime Minister Plenković, Minister Marić and Governor Vujčić at the meeting, considering that the Croatian banking system is internationalized.
As he said, they presented the interest rates that prevail in other countries and the practice that, for example, other countries do not have a limited effective interest rate, as is the case in Croatia.
"I am glad that we are working on a solution that will satisfy all parties, and especially that in the end, we will improve consumer protection," said Adrović.